Central Coast Animal Care Facility (CCACF) was in the spotlight this October, winning two awards for its work in rescuing and taking in animals.
After being nominated by CommBank employee, Alexis Wilson, the CCACF was announced as the 2020 CommBank Staff Foundation Community Grants recipient, receiving a $10,000 grant from the Commonwealth bank.
The facility hopes to put the money towards expanding its capacity by setting up a second care facility in the region.
The facility also won the Innovation in Rescue Award receiving $1000 and range of prizes from the 2020 Jetpets Companion Animal Rescue Awards for its Freedom Busters initiative.
Freedom Busters is an online crowdfunding program allowing the community to financially assist pet owners who cannot afford to take their animal out of the pound.
CCACF Manager, Deanna Walton, said she was overwhelmed by the generosity and was proud of her organisation.
"To have the Jetpet judges say they believe the Freedom Busters should be an Australia wide program had us all so proud," Walton said.
"It is lovely gestures like this generous CommBank Community Grant nomination which helps to put things into perspective and remind us of how our community is always standing behind us – we are incredibly grateful."
CCACF heavily relies on volunteers who assist in facilitating the animal rescues, care and adoption processes.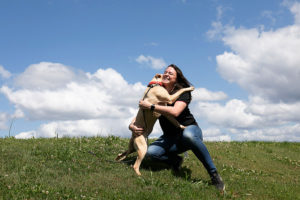 Due to COVID-19 restrictions, the volunteer program had to be placed on hold, placing a considerable burden on the facility.
"With an influx of people working from home, we have seen a greater demand for adoptions, which is awesome," Walton said.
"However, it has also meant we have had to streamline our adoption processes to ensure the animals adopted are finding their forever home and not their COVID home.
"As always, we are as active in the community as we are able, and we have opened our doors to those families who are struggling to at least take the burden from them and ensure that their pets are catered for.
"Rescue is a hard gig and to add impound on top of that makes it that little more difficult.
"It is always hard to see a distraught owner who has no choice but to surrender their pet and to be able to provide assistance to these families to have their furry family member home with them is so rewarding."
Walton said the awards would not be possible without support from the community.
Jacinta Counihan