Fancy a Bubble O Bill cocktail to wash down that Flamin' Hot Dorito Fried Chicken?
Well burger restaurant, Milky Lane, will give you that opportunity when it opens its sixth shop at Terrigal in December.
To be located opposite the surf club, Milky Lane will offer unique cocktails, extravagant food items, and a specials menu which is updated often with creative new combinations.
The development application for the old Raine and Horne store is yet to be approved, but Milky Lane founder, Christian Avant, said he is confident the doors will be open right in time for Christmas.
"We have introduced ourselves to all the locals and businesses, and everyone is excited," Avant said.
"It is very exciting for us as it has been about two years in the making.
"We have looked at places in Westfield Tuggerah and Erina Fair… but we just wanted that whole beachside lifestyle."
The restaurant and bar will be able to seat 140 people and will include indoor and outdoor seating, plus seating in the laneway.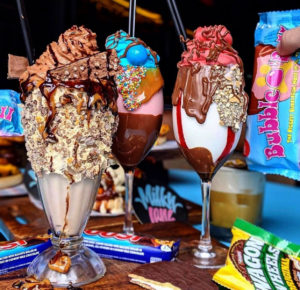 "Milky Lane is a destination venue where people go for a night out or a date," Avant said.
"A lot of people said Terrigal is seasonal, but we don't usually feel the negative effects.
"We don't want to take anyone away from other businesses, we just want to add people to the local area."
The Deep Fried Caramilk and Biscoff Calzone, Waffle Buns with Flamin' Hot Dorito Fried Chicken, Sriracha, Vanilla Ice-Cream and Maple Syrup, and Snicker Mega Milkshake, will be some of the specials offered.
"A new menu has just been released as I wanted a revamp," Avant said.
"It includes our Bubble O Bill Cocktail, which is one of our most famous drinks; it was previously just a special.
"We have our Zooper Dooper Cocktails, a four-cheese pot of dipping sauce, Warhead shots and plenty of new items.
"In creating Milky lane, I simply wanted to bring a little bit of entertainment, fun and experience to a burger style of a place and make it creative."
Jacinta Counihan