Cricket –
Six cricketing greats have been inducted into Central Coast Cricket Association's inaugural Hall of Fame (HOF).
Intended to be unveiled at the end of last season, the coronavirus pandemic delayed the HOF announcement, with the inductees instead announced in a series of posts to the Association's social media between October 1-9.
Each a legend in their own right, the Coast's inaugural Hall of Famers are: Alan Davidson, Dick Baxter, Jack Gavenlock, Peter Davidson, George Lammi and Damien Wright.
Widely regarded as the most prolific cricketer to ever come out of the Coast, Alan Davidson is one of the nation's most celebrated players.
Playing locally for Lisarow Ourimbah Cricket Club, Alan Davidson's legacy includes a distinguished representative career for NSW and Australia.
His Test career spanned from 1953 to 1963, playing 44 tests.
He was the first player to achieve the double of 10 wickets in a match and scoring a hundred in the tied test versus the West Indies 60/61 in Brisbane.
He took 186 wickets at 20.58, scored 1,328 runs at 24.59 and took 42 catches.
Davidson also remains the only Central Coast player to ever receive a callup for Australian Test Cricket.
Dick Baxter had a First Grade cricket career spanning almost 40 years.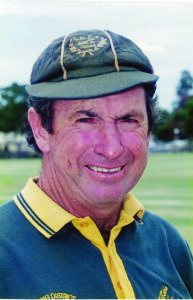 He played for Mountains and Mountains-Matcham from 1961 to 1971 before moving to Wyong, where he played until 2000.
Baxter took a phenomenal 1,038 wickets at 15.38, taking five wickets in an innings on 45 occasions.
He is described as a wily left arm orthodox bowler who was extremely accurate, incredibly competitive, as well as a dogged lower order batsman.
Jack Gavenlock is one of the founding members of the Central Coast Cricket Competition.
Gavenlock played first grade cricket for 35 years, scoring 10,003 runs at 29.20 and also taking 634 wickets at 15.60.
He was Captain of his club, Narara Wyoming, for 20 seasons, from 1920-1940.
Gavenlock is described as a standout allrounder of his era, with his impressive record and list of accolades standing the test of time.
Peter Davidson had a career spanning from 1954 to 1981, playing for Lisarow Ourimbah initially, before moving to Narara Wyoming where he captured 10 premierships, captaining six of those sides.
Davidson scored 10,248 runs at 38.35 with 22 centuries.
Arguably the best local batsman to ever grace the green, Davidson tore many bowling attacks apart with ease in his heyday and was revered as one of the players of his generation.
His legacy also includes his off-field contributions, with Davidson considered an integral member of Narara Wyoming Cricket Club.
George Lammi played a total of 56 seasons on the Central Coast representing Kulnura, Peats Ridge, Mountains, Matcham-Mountains and Mountains Kariong.
In First Grade, Lammi took 558 wickets at 15.18 and scored 4,699 runs at 20.58.
Considered a true gentleman of the game, Lammi also represented at Colts level, playing in NSW Colts and Hunter Valley Colts.
He toured on many Emu tours and played for Hunter Valley Colts in the JS White Emu Carnival on numerous occasions.
He also played for Combined NSW Country v Metropolitan teams and captained Central Coast Cricket's Open team in numerous representative fixtures as well as its John Bull Shield team.
Damien Wright had a distinguished First Class career both playing and coaching.
Originally a Kincumber Avoca junior before moving to Matcham-Holgate, Wright played in the inaugural Under 16 Central Coast side in the Green Shield Competition.
After that season, Wright went to Sydney, before playing First Class cricket for both Victoria and Tasmania.
He was selected to play in Australia A for various games vs South Africa, India, West Indies and Pakistan from 2002/03 to 2004/05.
His first class stats are 406 wickets at 28.62 and 3,824 runs at 23.46.
As a coach, Wright's record speaks for itself.
Among his many coaching achievements, standouts include being Head Coach Bangladesh U/19 World Cup team, Senior Bowling Coach with New Zealand, Bowling Coach for both Victoria and Tasmania, Assistant Bowling Coach with Melbourne Stars and Head Coach Hobart Hurricanes in the Big Bash Competition.
Dilon Luke