A site in Norah Head has been revealed as the Central Coast's number one extreme bushfire risk area.
It is not a new rating, but it has been highlighted following criticism about wildflowers being slashed near Norah Head Holiday Park.
The Rural Fire Service (RFS) has explained that the wildflowers were felled as part of a bushfire management plan to reduce risk in this most extreme fire-vulnerable area.
Bush tracks in the area between Wilfred Barrett Dve and the houses to the east were being enjoyed and photographed with some of the best shows of wildflowers in years.
However, it all came to an abrupt end when the RFS widened some tracks in preparation for a controlled burn in the area.
That burn should take place by the end of September.
Central Coast RFS District Assistant, Stuart O'Keefe, said bushland at Norah Head near the caravan park, houses and the Norah Head Bowling and Sports Club, was about 50 hectares.
The current Review of Environmental Factors (REF), adopted in 2016, showed that the area is home to endangered ecological communities and, as part of that review, the RFS assessed the need for hazard reduction burns and widening of fire trails for better access.
"Narrow walking trails make it hard to control a fire and it is hard to control spotting," O'Keefe said.
The RFS calculated that it would lose 0.2 to 0.3 of a hectare of land to widen bush tracks which needed to be formalised as fire trails.
The trails need to be 2m wide, with another 1.5m either side to allow trucks and firefighting access.
"These form significant control lines for us," O'Keefe said.
The disturbed area actually stimulated the prolific growth of wildflowers in that area, he said.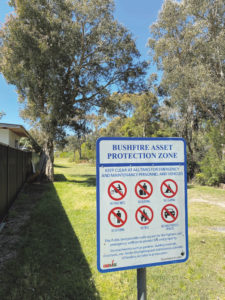 Non-essential tracks were allowed to go back to their normal state as an offset to the works done to formalise and widen the fire trails.
Track maintenance had been ongoing every year since 2016, with an annual burn on one portion of the 50ha of land each year.
This produces a mosaic pattern of burning so that there are different levels of recovery for each parcel of land.
O'Keefe said the five-year program of works set out in the plan, drawn up in conjunction with Central Coast Council and the Department of Crown Land, actually improved the area.
"In the past, free and unfettered vehicle access to the area had seen dumping, anti-social behaviour and vandalism."
He said half a dozen burnt out cars were dragged out about four years ago.
"Now, gates and bollards stop vehicles that don't have a lawful right to be there.
"The result is a net gain," he said.
The land is now owned by Darkinjung Local Aboriginal Land Council and the need for a REF would continue.
The NSW Department of Environment website shows that low woodland with heathland on hard-setting sand at Norah Head was listed as an endangered ecological community (EEC) in 1998 by the Scientific Committee, established by the Threatened Species Conservation Act.
The Committee determined that this EEC was not found anywhere else in the area, as other sites had been destroyed by urban expansion and it was probably the only site left of this nature in the Sydney Basin Bio-Region.
"Threats to the survival of the EEC include clearing and fragmentation for urban, recreational and industrial development, invasion by exotic species and illegal dumping," the Scientific Committee said.
"None of this EEC is represented in any national park or nature reserve.
"In view of the threats to the integrity of the EEC, the Scientific Committee is of the opinion that the low woodland with heathland on hard-setting sand is likely to become extinct in nature in NSW unless the factors threatening its survival cease to operate."
The RFS has a list 35 pages long which holds data related to its bushfire risk management plan for the Central Coast District that identifies community and private land at risk, and sets out a five-year program to reduce bushfire risk.
Treatments could include hazard reduction burning, community education, fire trail maintenance, establishing community fire units and even grazing.
Merilyn Vale