More than 16 million drink containers have been deposited at the Bateau Bay Return and Earn recycling depot at Woolworths, making it the most popular reverse vending machine on the Central Coast.
Since it opened in December 2017, 16,806,970 drink containers have been cashed for 10 cent refunds.
Of the 19 collection points across the Coast, 10 are in the northern suburbs, and they accounted for a total of 96,876,393 drink containers recycled since Return and Earn was launched almost three years ago.
This number is well over half of the Central Coast total of 179,204,595.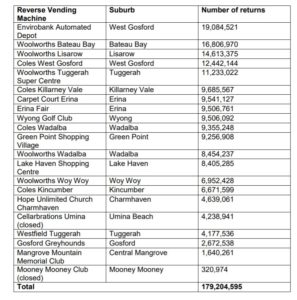 An automated bulk collection point at West Gosford clocked up 19 million returns alone.
Parliamentary Secretary for Central Coast, Adam Crouch, said Return and Earn had been highly successful at reducing litter.
"Over 170 million return and earns is not just good news for our local waterways and the environment, but it also means a massive $17M back in people's pockets," he said.
Users can choose to donate their refund directly to selected charities or transfer it to their designated account.
Sue Murray