Independent Federal MP Zali Steggall has called for an end to the PEP 11 permit for offshore gas exploration as community opposition to drilling offshore on the Central Coast continues to grow.
Advent Energy withdrew plans for seismic testing off the Coast earlier this year following community backlash.
But with PEP 11 due to expire in February, 2021, Advent Energy and Bounty Oil and Gas have submitted an application to The National Offshore Petroleum Titles Administrator (NOPTA), to extend the title and change it to allow for drilling for gas.
Steggall told Federal Parliament many constituents had written to her with their concerns about PEP 11, which covers a huge expanse of the eastern coastline from the Sydney Basin to north of Newcastle.
"Offshore oil and gas exploration and production through PEP 11 could have dire consequences for our ecosystems, tourism businesses, coastal communities and climate," she said.
"Under no circumstances should it proceed."
In a current action by local grassroots not for profit Save Our Coast, which founded the campaign to stop seismic testing, thousands of emails have been sent to MPs calling for an end to PEP 11.
The approval for the variation in title rests with the Joint Authority – the Commonwealth and State Resources Ministers Keith Pitt (Federal) and John Barilaro (State) – with ultimate decision resting with the former, with no avenue for community consultation.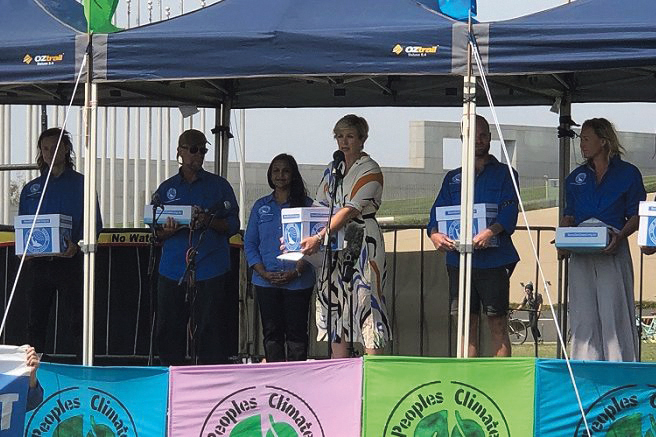 "Communities along the most heavily populated area of Australia should have a say in whether or not an existing petroleum exploration permit, that affects the coast that defines them, is renewed," Save Our Coast founder and director, Natasha Deen, said.
"The iconic east coast of NSW is home to millions, is in the whale migration path, hosts a rich biodiversity and brings millions of dollars to the economy in thriving tourism industries
"Communities are deeply connected to the coast and depend on it for livelihoods and wellbeing."
Deen said drilling under the sea risks pollution and oil spill (oil is often present where there is gas) which could do catastrophic harm to the entire east coast of Australia and beyond.
She said PEP 11 was a "shocking plan to industrialise NSW's iconic coastline".
"(It) risks devastating the delicate marine ecosystem, the climate, the economy, and communities' wellbeing and way of life," Deen said.
"We are already struggling with the uncertainty of COVID 19, so soon after the devastating bushfires.
"We don't need further uncertainty, stress and risk to our beloved coast, climate, livelihoods and way of life that PEP 11 brings.
"We need an economic recovery in renewable energy with its secure long lasting jobs and lower emission industry and manufacturing, (and reduced household energy bills), that can support communities into a new safer, cleaner, prosperous vision for Australia, instead of drilling for fossil fuels off the iconic coast of NSW."
Save Our Coast has collected more than 65,000 signatures on petitions protesting offshore exploration for gas.
Media release, Aug 25
Save Our Coast