Police are investigating an incident on the M1 Motorway at Ourimbah, where a semi-trailer careered down the off ramp and jack-knifed into bush on the side of the rest area, just off the roundabout at the northbound exit.
Emergency crews and police were called to the scene just before midday on Thursday, August 6.
Upon arrival, crews found that the truck had jack-knifed and the cabin had overturned, however, the trailer remained upright.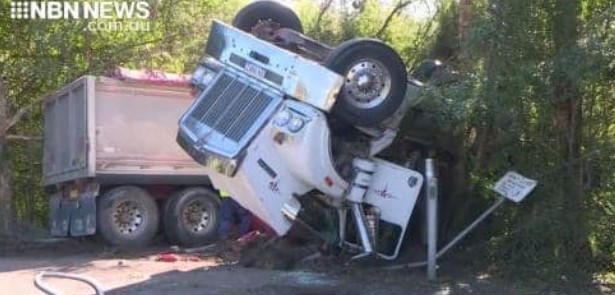 The truck had collided with one car, but the semi-trailer driver avoided other vehicles and caravans parked along the roadside at the rest stop.
Passersby were able to rescue the driver from the truck and he was assessed and treated on the scene by NSW Ambulance paramedics.
Two people were transported by ambulance to Gosford Hospital.
Berkeley Vale Fire and Rescue NSW crews stayed on the scene to contain and clear a spill of about 150 litres of diesel and were able to render the area safe just after 1.30pm.
Transport for NSW and emergency services conducted an operation to recover the semi-trailer.
The northbound off-ramp was closed and the rest area was closed for about 24 hours.
Sue Murray