Hunter Community Environment Centre (HCEC) will present evidence of heavy metal pollution in Lake Macquarie at a public hearing on September 1, as part of the NSW Government Inquiry into Coal Ash Waste Site Remediation.
The Inquiry was established on October 1, 2019, to inquire into and report on the costs for remediation of coal ash repositories in NSW.
HCEC Co-ordinator, Jo Lynch, said the Centre had been investigating pollution from coal ash waste at Vales Point and Eraring power stations on Lake Macquarie, and the findings would be revealed at the hearing to be held in Sydney.
Initially, the Inquiry Committee hearing was to be held on August 26 at Lake Macquarie, including site visits, but it was reconvened to Parliament House due to COVID-19 health advice.
Representative of Hunter Central Coast Coal Ash Community Alliance, Gary Blaschke of Lake Munmorah, is one of four speakers from across NSW invited to address the Inquiry, including another two Lake Macquarie groups and a Lithgow group regarding Mt Piper power station.
"The Inquiry is to look at the reuse of coal ash, but no matter how we reuse it, there's already about 60 million tons stored already at Eraring and Vales Point power stations with several million tons being added to the ash dams every year, and if the lifespan at Vales Point is another 12 years, it's an issue that's not going to go away," Blaschke said.
HCEC Co-ordinator, Jo Lynch, said recent changes made to NSW power station Environmental Protection Licences (EPL) by the Environment Protection Authority (EPA) forced power stations to increase monitoring and reporting of air and water pollution, but failed to limit the majority of toxic water pollutants emitted by power stations.
"The licence changes are a positive but tiny step, and the public cannot yet be assured that the EPA is protecting water from degradation by power stations' coal ash pollution," she said.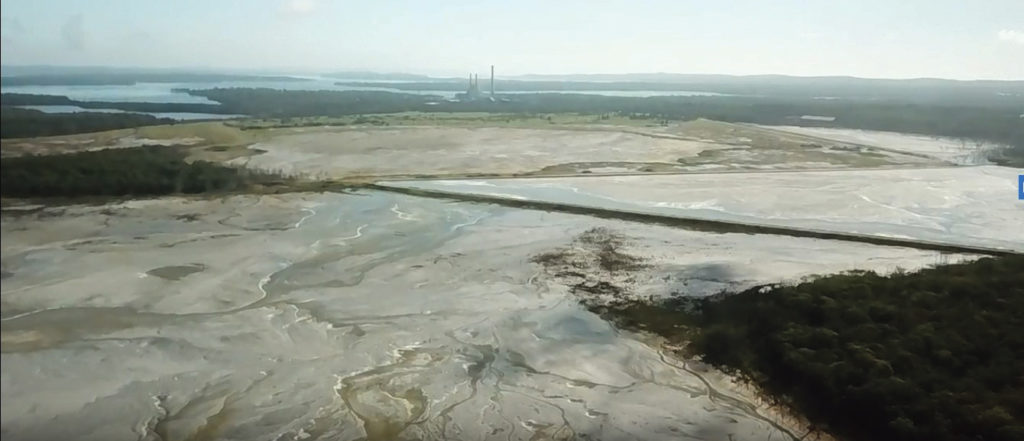 "Metals present in coal ash are carried by water into the environment where they can be consumed or absorbed by people and organisms and bio-accumulate, causing toxicological effects."
Lynch said heavy metals escaping from Vales Point power station ash dam included arsenic, boron, cadmium, chromium, copper, manganese, nickel, lead, selenium and zinc.
"While the EPA licences for Vales Point now include monitoring for additional heavy metal pollutants in water, there's still only concentration limits on three of about 20 pollutants, being copper, iron and selenium.
"It's a very small change and it's still not a rigorous enough regime for limiting heavy metal pollution.
"Also, the limits are not in line with the National Water Quality Framework.
"There has been some movement by the EPA but it's still not good enough after years and years of metals being emitted into Lake Macquarie without any concentration limits, and while there's been a decent increase in the monitoring, why hasn't this been happening the whole time?"
Lynch said heavy metal pollution was the source of a long standing dietary warning on fish caught from Lake Macquarie due to elevated selenium levels, and a 2016 Department of Primary Industries report found that cadmium was also at potentially dangerous levels in Lake Macquarie mud-crab.
"We urgently need limits on all heavy metal pollutants emitted by power station ash dams, in line with our national water quality frameworks and health guidelines."
Hunter Community Environment Centre has also made calls for a levy for dumping coal ash by power stations to encourage ash reuse to reduce the volume of coal ash accumulating in NSW, which risks impacts on fish and wildlife, as well as those who regularly eat fish from the Lake Macquarie, Lithgow and Hunter regions.
Each quarter, the results of water quality monitoring undertaken by Vales Point and Eraring power stations are published online on their own websites and on the National Pollution Inventory.
For Vales Point, there are eight water monitoring points, and latest NPI statistics show that there has been 33 exceedances of National Water Quality guidelines between July 2013 and April 2020.
Management at Vales Point Power Station was contacted for a response.
Sue Murray