Wild weather lashed the north of the Central Coast on July 12, with heavy rain, thunder and lightning putting on a sky show and hail carpeting Gwandalan like snow.
The Bureau of Meteorology and State Emergency Services started putting out warnings to batten down the hatches a few days before the storm swept through.
Deputy Unit Commander of Wyong State Emergency Service, Sue Robson, said that they were called to 27 jobs over the three-day storm period.
"It wasn't quite as bad as expected because it wasn't the East Coast Low everyone thought it was going to be, instead it was a low-pressure system, but it still brought some heavy weather," Robson said.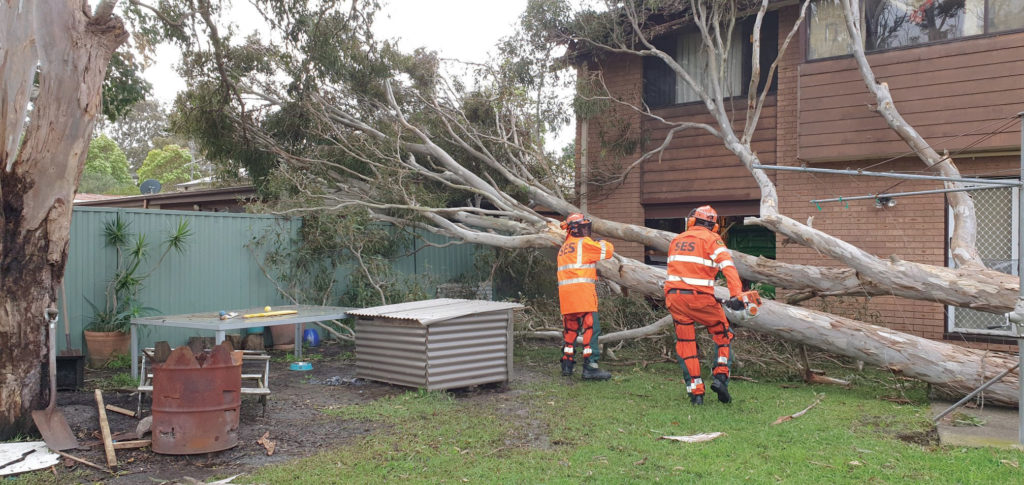 The low-pressure system brought damaging winds, big tides and heavy seas with winds averaging 60 to 70km/h and peak gusts in excess of 90km/h while the powerful seas started scouring out the already unstable sand dunes along The Entrance North Beach.
Marlene and Gerry Pennings have lost about 4m of their backyard, but they say they are still quite stable as their house is a further 7m back.
"Our house is over 100 years old, so we are a bit different to some of the newer homes which have much deeper foundations," Marlene said.
"Council is doing everything they can, they have been very supportive and the beach crew is very helpful, getting as much done as they can by moving sand to shore up the banks and sometimes working up to one o'clock in the morning.
"The engineering staff have been out to check us and we're safe, but we'll be keeping an eye on those big tides coming in over the next couple of days," Marlene said.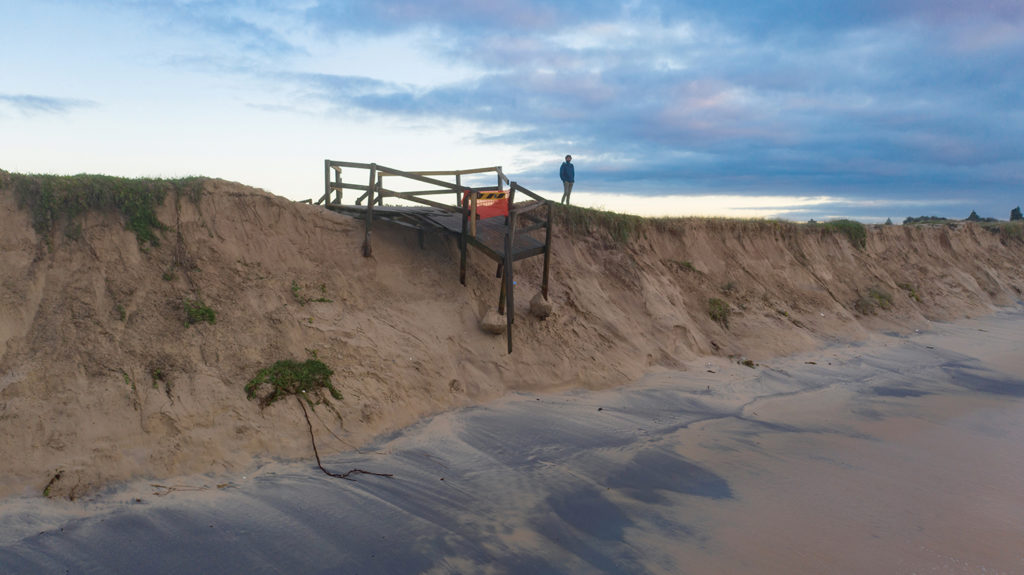 Paul Green and his wife have lived at The Entrance North for the past 16 years and he says this beach erosion is definitely the worst that most people along the beachfront have seen.
"We've lost 10m of our land, and we've got about another 10m left," Green said.
"I'm feeling pretty anxious and a little frustrated.
"We wanted permission to do something along the beach to shore up the sand dunes but obviously we weren't getting enough council and state government support, everything just takes too long.
"We wanted to put down geo-sandbags or sandstone, something that's safe for people, and we weren't looking for a handout, but knew that something had to be done sooner than later or we could very well finish up like Wamberal is now.
"Some of the 30 or so properties along here are so at risk it will take only one or two East Coast Lows, or a Tasman low, to come through here again to do irreparable damage.
"Some of the rock that was put along the beach in about 1974 to protect homes against erosion is now starting to appear, as these big tides and heavy seas are washing away the sand.
"It's interesting to see that the houses with that rock in front of their properties have not lost any property through erosion.
"I'm no rocket scientist but it's not hard to work out what's going on there," Green said.
Cr Bruce McLachlan said council staff had been carrying out sand scraping from the low tide mark to form sand berms at the high tide mark to protect the sand dunes from being washed away.
"The NSW Public Works Department is involved and if there's any more work to be done, it will be designed by them," McLachlan said.
Council called a residents' meeting on July 21 to inform them of what was being done to help them now and going forward.
Central Coast Mayor, Lisa Matthews, said that after the emergency meeting on July 20, homes under threat at The Entrance North were being considered "in parallel" with waterfront houses at Wamberal, many of which had seen part of their infrastructure collapse in the wake of heavy storms last week.
"Our engineers have been to The Entrance North and assessed all houses which could be at risk and are keeping residents informed of progress.
"At this stage, no residents have been evacuated from The Entrance North.
"A meeting was held on July 21 with residents to inform them of latest developments.
"It is my understanding that staff and engineers are working together to design works which will support homes at The Entrance North in the near future.
"The Entrance North hasn't suffered as badly as Wamberal through last week's storms, but it is our absolute goal to prioritise safeguarding these homes," the Mayor said.
Meanwhile, the NSW Government has appointed a Local Recovery Co-ordinator in response to the significant erosion issues at Wamberal, but not The Entrance North.
The co-ordinator is Lee Shearer, a former NSW Police Force Assistant Commissioner, who previously held the role of Central Coast Co-ordinator-General for the NSW Department of Planning and Environment.
She would build on the work by Local Emergency Operations Controller, Superintendent Tony Joice.
Shadow Minister for Central Coast, Wyong MP David Harris, has called on the State Government to extend the role of the Local Recovery Co-ordinator.
"Ms Shearer's remit needs to also include a long term solution to not just the Wamberal coastal erosion issue but also issues affecting The Entrance North residents," Harris said.
"The government's response must not just be about the next few months and must address the legislative, legal and financial mine field that has caused this issue.
"The Premier or a ministerial delegate needs to visit the Central Coast as soon as possible so they can report to Cabinet the necessity to fully support Ms Shearer's efforts, both through legislation and financially.
"Without the full commitment of the State Government, any short-term remedy will be just another bandaid, and the final outcome must address the needs of residents and beach users alike," Harris said.
Reporter: Sue Murray