World Bee Day was on May 20 and Member for Gosford and avid apiarist, Liesl Tesch, has renewed calls for the State Government to provide a recovery plan for struggling NSW beekeepers – the largest producers of honey in Australia.
Tesch said World Bee Day is about raising awareness of the critical role bees play in our food security and the threats they face, with nearly one third of the food we consume each day reliant on pollination mainly by bees, including avocado, citrus fruits, and feed given to cattle, as well as cotton.
"Apiarists across the state have been severely impacted by the devastating summer bushfires that destroyed thousands of hives housing many millions of bees, with many already reeling from three years of ongoing drought," Tesch said.
"The trees bees need simply won't recover in time.
"It could take between five and 20 years for some flowering gums to recover enough to produce enough nectar and pollen to feed the bees," she added
Beekeepers have raised uncertainty about ongoing waivers of fees for using public land for their hives and heavy vehicle fees required to service them, the need for more sugar to keep their hives in production and an audit of public lands available for beekeepers, as well as more research to help the sustainability of Australia's bee population.
Shadow Minister for Agriculture, Jenny Aitchison, recently travelled around the state and spoke to apiarists about the devastating impacts on the industry and saw the damage first-hand.
"Apiarists are looking for alternative sites and have approached the State and Federal Governments to seek access to unburnt national parks and state conservation areas to feed and strengthen bees for the task of pollination.
"NSW apiarists were given short-term food source of sugar supplements for the bees in the fire-affected areas earlier this year, but they need ongoing support from the government to ensure not only the bees future, but the sustainability of the many other primary producers in horticulture who are reliant on bee pollination," Aitchison said.
With NSW being the largest honey producing state in Australia and with the vital need for economic stimulus, Tesch said now was the time to act.
"With World Bee Day upon us, it is the perfect time for the NSW Liberal Government to produce a recovery plan that details how they will help the industry recover both in the short term and long term.
"The industry has been crying out for assistance, and it is past time that the government listened to them."
Tesch is also calling on bee spotters to take part in some citizen science today.
"Bee lovers around the world will be taking photos of pollinators in their local area and uploading them to the World Bee Count app.
"This citizen science project is the start of a much-needed data collection effort to create a global pollinator map so that researchers can better understand how to protect bee populations," she said.
Pretty Beach beekeeper, Sue Walshe said that while many birds can flee bushfires by flying to safe havens along the coast, insects and particularly native bees are more vulnerable.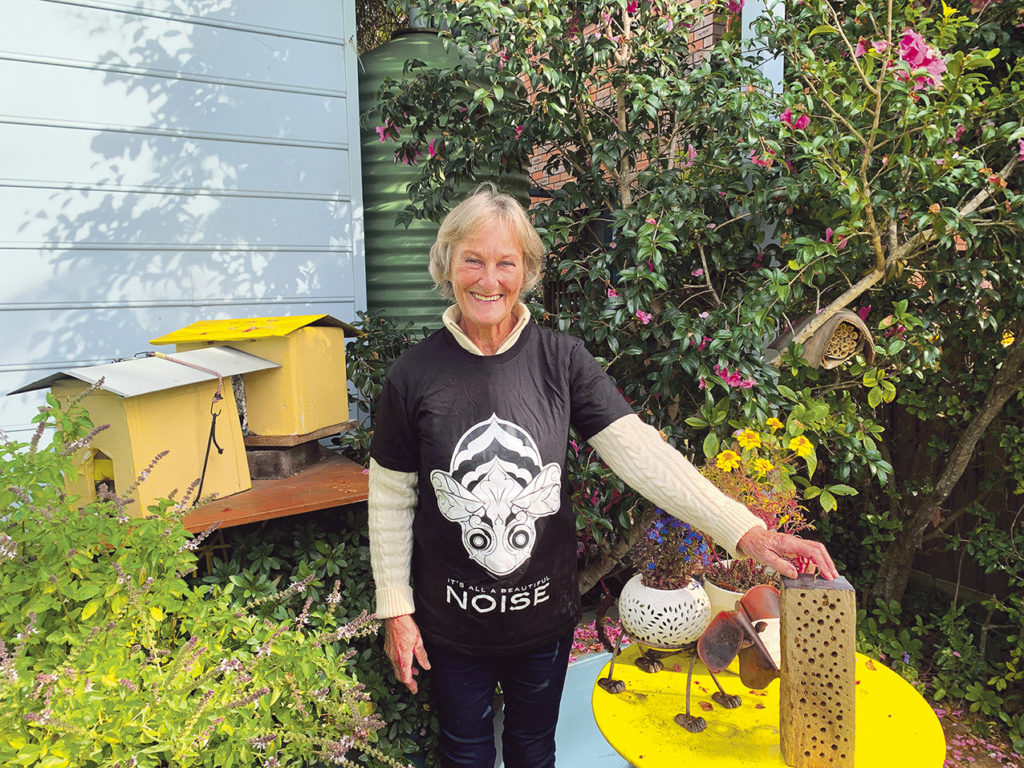 "We need bees to pollinate vegetation and the crops that feed us – drought and poor land management has already led to huge reductions of vegetated areas for professional European beekeepers to place their hives and so this is a significant economic issue."
Walshe says the beauty of bees and their wondrous relationship to nature, including us, is incredibly special.
"Without them we cannot survive.
"Honey Bees are in decline globally due to a mix of pesticides. Varroa mites and viral infection.
"Luckily these viruses don't appear to infect our Australian native bees but sadly, many of these are now lost to NSW fires this summer.
Native bees are not fussy foragers, Walshe says, but prefer native plants as well as some exotics
Planting native flowering trees, shrubs, herbs and flowers in our gardens can promote healthy, thriving hives.
"Unlike the Honey Bee, stingless native bees don't require a water source and are very self- sufficient.
"Most of our native bees are solitary, while others have a very complex and fascinating social system. "Some bees are semi-social, for instance, and females may lay their eggs in close proximity to other females.
"We can provide 'bee hotels' for them by bundling short hollow sticks or bamboo together and drilling holes approximately 8cms in diameter in a block of wood.
"Shade in summer and sun in winter is ideal so placing hotels facing morning sun and out of the rain is important."
"Just one native beehive in your garden will provide thousands of hardworking pollinating bees," Walshe said.
"Keeping a native beehive has been a joy for me and I am learning just how important they are to all life on the planet.
Source:
Press release, May 21
Liesl Tesch MP
Interview with
Sue Walshe, May