Three Central Coast firefighters have been honoured in the NSW Rural Fire Service's annual bravery and service awards.
Captain William "Jock" Ross and Senior Deputy Captain, Alison Wade of Spencer Brigade, each receiving bravery awards, and Retired Group Captain, Warwick Teasdale, of the Killcare/Wagstaff Brigade, was honoured for more than 40 years of service.
What started as a "pile burn" alert at Spencer on April 1, 2019, quickly escalated, and resulted in the heroic rescue of a resident and his dog from a house consumed by toxic flames, by Captain Ross and Senior Deputy Captain Wade.
"I was first on the scene, with a fellow firefighter, and the first thing I did was make the house secure by ensuring gas and electricity were turned off," Wade said.
"Then, as I approached the house, I could see that there was a man inside and I knew he had a dog in there, so we started calling for him to come out."
But attempts to alert the resident inside the locked building, who appeared to have impaired cognitive ability, were unsuccessful.
By the time Captain Ross arrived on the scene, the corner of the structure was well alight, with flames extending internally to the roof and toxic smoke building up inside.
With the next closest backup at least 15 minutes away and the risk that the fire would engulf the building, Wade and Ross decided that forced entry was the only option.
"It seemed that the man inside couldn't hear us, and when Captain Ross arrived, we made the decision to bust down the door," Wade said.
"We were able to locate the man and his dog and get them both safely outside."
With Spencer Brigade not an accredited Compressed Air Breathing Apparatus (CABA) unit, the firefighters entered the house with no breathing aids, crouching beneath thick smoke, as they effected the rescue.
"You don't get frightened at the time," Wade said.
"The adrenalin kicks in and you just focus on the task at hand.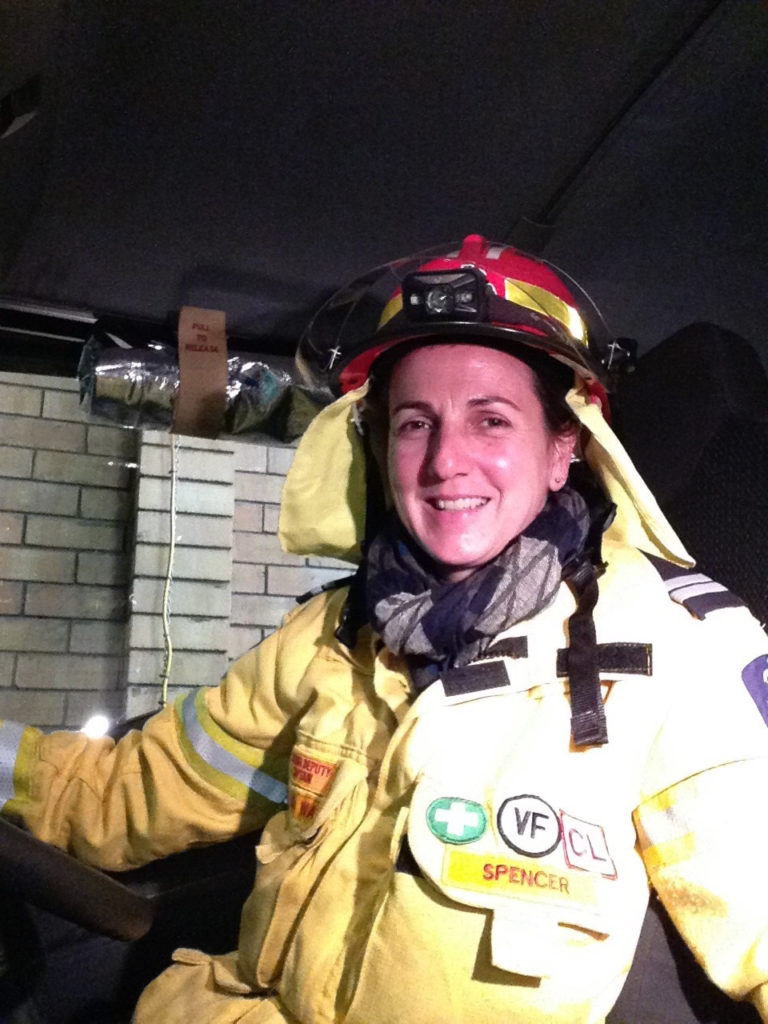 "But with no air tanks or breathing apparatus, Captain Ross took in a lot of smoke and I had to call the paramedics to take him to hospital.
"I stayed on and assisted the rest of the crews, making sure that the fire was completely put out."
Captain Ross was released from hospital later that day, but a serious motorbike accident last September has seen him take a break from firefighting duties, with Wade acting as Captain ever since.
She said she was completely surprised by the bravery award, with RFS Commissioner, Rob Rogers, describing her and Captain Ross as "both selfless and brave" as they risked their own lives to save the life of a fellow community member.
"I just do what I'm trained for and I'm sure there are people who have done more heroic things," Wade said.
She has been with the RFS for six years, originally following in the footsteps of a relative who was a previous Captain of the Spencer brigade.
"He was a distant cousin, but really more of a grandfather figure to me, and I have been trying to fill his boots," she said.
For Retired Group Captain Warwick Teasdale of the Killcare Wagstaffe brigade, being honoured for his service came as a "total surprise and a deep honour".
"I look at other people who I've thought were more deserving," he said.
"So many people do great things without expectation of reward, and I am aware that what I have achieved is through the support of other people and the organisation."
First joining the brigade in 1976, he held a variety of positions, including Permit Officer, Secretary, Captain and Deputy Captain, before being elected as a Group Captain in the Gosford District in 1999.
He has since retired from that position, but still serves as a Deputy Captain.
During the course of his career, he has attended the majority of significant fires in the Gosford area as well as attending larger fire, flood and storm damage incidents, and hazard reductions in surrounding districts.
He assisted with the flood recovery effort at Nyngan in 1990 and was also involved with the efforts to control the outbreak of Newcastle Disease in the poultry industry on the Central Coast in 1999.
He has been a very active member of the Gosford Training Committee, delivering a range of courses, and has travelled regularly to Botswana to provide firefighting and incident management training to the Department of Forest and Range Resource Officers and National Park Rangers as part of the Botswana Fire Management Program, an AUSAID funded program.
"Going to Botswana was the most incredible experience I've had in my life," he said.
"We had to adapt to a lot of different circumstances and it was quite unreal, training in the bush there.
Teasdale has also delivered high level Incident Management training programs to delegations from the Korean Forest Service and the National Disaster Management Authority of India.
He said the RFS was unique in that it was largely manned by volunteers.
"I haven't really come across a similar system in the world," he said.
His worst experience was when he was trapped with members of several brigades at Phegans Bay during major fires some years ago.
"I wasn't really afraid at the time" he said, "but looked back at situations and realised they could have gone a different way."
"We have a big emphasis on training and teamwork and that inspires a lot of confidence," he said.
Source: Media release, May 4, 2020 Rural Fire Service
Interview, May 5 – Senior Deputy Captain, Alison Wade
Interview, May 6 – Deputy Captain Warwick Teasdale
Reporter: Terry Collins