[Anzac Day edition] The week's news in video format: It's with a heavy heart we report the first virus-related death in our region. Tuggerah Call Centre COVID-19 cases, Kincumber roundabout complete, The Entrance Channel, Spencer dunnies, Fudge monkey closes, ANZAC message & poetry recital.
Published at 2020, April 24
Show More
Central Coast COVID-19 update
The woman was part of the Gosford Hospital COVID cluster that broke out earlier in April and included six healthcare workers, two patients and four others.
The death brings the total number of deaths in NSW to 30.
On the Central Coast the number of confirmed cases is steady at 118 almost all of whom have now been released from isolation, with just one person still in hospital.
Centrelink call centre cluster
Service NSW's Tuggerah Call Centre has been closed after a worker tested positive for Covid-19 on April 19.
The centre which employs several hundred workers is undergoing extensive cleaning and health authorities are tracing close contacts of the infected worker.
The Federal Member for Dobelle, Emma McBride, said her office had received reports that the centre had not adhered to suitable social distancing practices and has called on the Minister for Government Services, Stuart Robert, to provide assurances about the welfare of other workers.
Kincumber Roundabout
Well, long suffering commuters will be delighted to know that major roadworks on one of the Coast's biggest choke points, the Kincumber Roundabout, are now finished.
The project has cost taxpayers $20 million, but Member for Terrigal, Adam Crouch, said construction teams have worked around the clock to finish the work and, as you can see behind me, some 25,000 motorists a day are now moving safely and efficiently through the critical link between Terrigal and the Peninsula.
And it's widely thought that the successful completion of the project is largely due to the deep thinking applied to it by HG Nelson and our own Digital Dave, aka, the Kincumber Roundabout Thinktank.
Well Ross, the Thinktank of course never takes credit for works completed, but HG was so impressed he may nominate it for Infrastructure Project of the year to the Even Greater Sydney Planning Commission.
The Entrance Channel
And keeping with the infrastructure theme the Entrance Channel is finally moving.
After the furore over flooding in February, many locals were delighted to see diggers at work last week.
The Council has reportedly moved over 5,000 cubic metres of sand from the eastern reaches of the channel and used to repair eroded banks on the southern end.
No doubt many will be pleased by the sight of excavators and socially distanced workers cleaning the channel.
Popular business closes doors
To business now, and last week we reported on some businesses doing it tough in the shut down period.
This week we're sad to report that iconic local business Fudge Monkey is the latest casualty of the pandemic.
Fudge Monkey is closing doors for good in Woy Woy and we spoke earlier today with co-owner Ganesh earlier today.
Spencer dunnies
Finally, up at Spencer the locals are lobbying council to close the old Spencer Dunnies, which, as you can see here, have seen better days.
Resident spokesperson Robyn Downham says locals have objected to an initial proposal from Council to relocate the toilets to the local CBD area, which they say will interfere with the view and scarce parking currently available.
And Ross, I've been up to Spencer a bit and I confirm there's not much worth preserving of the old toilets, a historical relic from the 1960s, but I can't actually recall seeing a CBD area.
New roadwork technology
Virus notwithstanding, the Central Coast Council is powering ahead with its extensive program of road maintenance and construction.
It is also the first Council in Australia to make use of a revolutionary new road stabilisation and paving technology to reduce construction time, increase the use of recycled materials and deliver a more consistent road surface.
The Council is working with Stabilised Pavement Australia to deliver the technology, which essentially combines a series of machines into one interconnected production line of over 50 metres to rip up old road, recycle it, lay new bitumen and then roll the surface in one sequence.
Grassroots Rugby League
Turning to sport and while the spotlight is on the proposed recommencement date for the NRL of May 28, the outlook for the NSW grassroots competition here on the Coast is far more uncertain.
Central Coast Rugby League President Gerard Andrews welcomes the restart of the NRL saying that its survival depends on broadcasting rights and therefore on getting players back on the field.
But he says local clubs rely on sponsor funding, most of which comes from clubs and pubs and other local business that have taken a big hit from the virus shutdown.
Andrews said he thought it would be better for everyone if the 2020 local season was scrapped to give everyone a chance to recover.
ANZAC message
Lucy Wicks MP for Robertson recorded this short message to mark this very different Anzac Day in 2020.
Poetry reading – 'It's a good world after all'
And finally, its Anzac Day tomorrow. And to mark the occasion, we thought we close this week with the Central Coast's favourite bush poet, Ken Tough.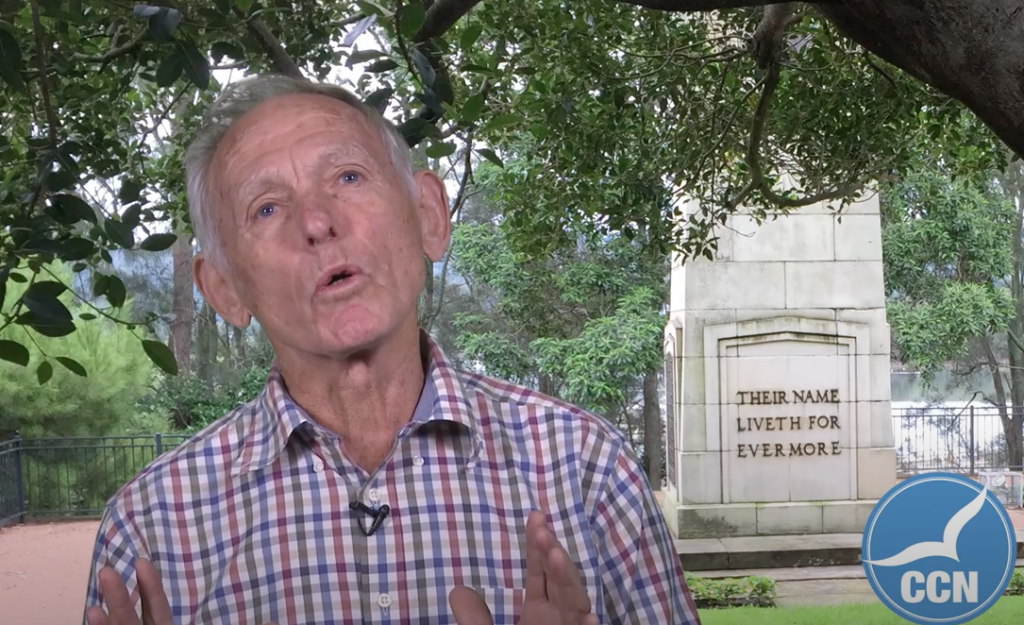 Thanks for joining us and we'll see you next week for 5@5.
Presented by Ross Barry with David Abrahams. Filming and editing Alex Herget.