[Central Coast, April 3, 2020] Covid19 cases reach 112 on the Central Coast. NSW announce a $10,000 grant for small business, Childcare to be made free for those who need it, New data for Coronavirus on the Central Coast, Council elections postponed 12 months, Hear from local travellers held in mandatory quarantine and something cheesy.
Published at 2020, April 03
Show More
Childcare
As week 3 of the shutdown draws to a close, two new measures have been announced by the government to support families and businesses.
Yesterday, Prime Minister Scott Morrison announced that child care will be free for those who need it in a bid to keep over 13,000 child care centres open.
Australia's childcare sector will receive a $1.6 billion boost over the next three months, commencing April 6.
Over a million families are expected to benefit from the temporary relief.
$10,000 State Government Grant
And many of the thousands of small businesses across NSW suffering from the shutdown will receive grants of up to $10,000 under a new scheme announced today by the State Treasurer Dominic Perrottet.
The State will add $750M to the Small Business Support Fund that was setup originally to help business affected by the bushfires.
Mr Perrottet said the grants will be available to 10's of thousands of businesses who are too small to get the payroll tax relief announced two weeks ago, including many local cafés, restaurants, gyms and small accommodation providers.
To be eligible, businesses will need to have between 1-19 employees, turnover of more than $75,000 and a total payroll below the threshold of $900,000 a year.
And they must use the funding for unavoidable business costs such as utilities, legal costs and financial advice.
COVID-19 Cases on the Coast
NSW Health authorities confirmed 91 new coronavirus cases in the past 24 hours, which brought the state's total to 2,389.
It's the first time since March 22 the number of new infections has been less than 100.
On the Central Coast, Local District Health have advised the total number of COVID-19 cases has now risen to 112, an increase of just 10 cases in the past 48 hours, down from an increase of 32 in the same period last week.
There are still no Coronavirus-related deaths on the Coast and, in fact, only six hospital admission.
Over 4,400 people have now been tested on the Coast, which implies a positive test rate of around 2.4 per cent.
One thing that many have called for is the publication of more granular data on the incidence of COVID-19 on the Coast. Let's hear from David Abrahams.

More data called for
Thanks Ross, yes, earlier this week we spoke with a locally based Data Analyst Patrick Spedding who's been calling on the authorities to release more localised Covid-19 case data to help inform the public.

Some progress has been made here. As yesterday the State Government data agency did start releasing postcode level case data.
As a result Patrick created this chart that shows the new daily occurrences of the virus based on postcode. See our website to access the chart.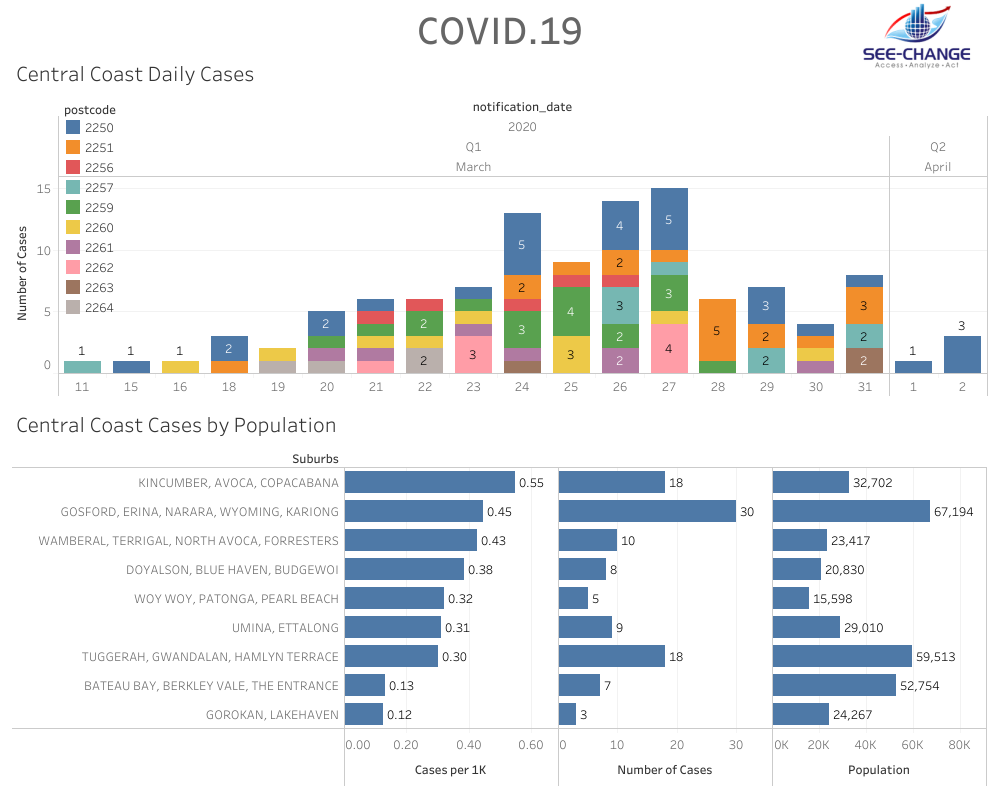 As we reported on Monday, the NSW Government has postponed local government elections, which were due to be held in September, for 12 months.
We previously heard from Mayor Lisa Matthews who supported the announcement and today we spoke with independent Councillor for The Entrance Bruce MacLachlan.

Each week we like to find a story of businesses adapting to the current shutdown situation. This week we caught up with local cheese maker Russel from Little Creek Cheese in Wyong for a report.
Locals in Mandatory Quarantine
Well, we reported on Monday that NSW had enacted new powers to hold Australians returning from overseas in mandatory quarantine in city hotels.
Killarney Vale couple Margaret and Darren Waters returned to Melbourne this week from a holiday in Sri Lanka where they were ushered into a bus and taken under police escort to the Crowne Plaza Hotel.
I spoke with Margaret earlier today.
Well that's all for today.
If you have some time on your hands don't forget, all of CCN's video interviews over recent years are available on our website.
Or, you could check out the Toilet Roll Singer, Sally Loughnan of Lisarow who has posted a series of songs, performed in Coles supermarket aisles and adapted for the times.
Presented by Ross Barry with David Abrahams. Video and production by Alex Herget.