Access requirements to the JobKeeper welfare scheme may undermine the salvation to small business that the Morrison Government is hoping for, according to some local proprietors.
The JobKeeper payment package was passed by the Morrison Government several weeks ago in the hope it would quickly inject funds into the small business sector and save millions of Australians from losing their jobs.
ACTU Secretary, Sally McManus, even declared that any business owner who refuses to access JobKeeper was "immoral".
But one element to the scheme's operation, according to many small business owners, could inadvertently make in inaccessible.
To access the JobKeeper payment, employers are required to initially pay employees a minimum of $1,500 per fortnight to be eligible for arrears paid back on a monthly basis.
This means companies must have the money to pay employees first.
However, a small company's eligibility also depends upon having faced a fall in turnover of more than 30%.
Falls in revenue of this magnitude for small business usually mean negative net cash flows.
Therefore, businesses that are losing money every day, need to fund wages for retained employees out of their own pocket or through new borrowings.
One such business that is facing this predicament is the local Ettalong café, Helado, where owner, Chris Perkins, is currently undecided if he should apply for the scheme. [click for 5@5 news interview on YouTube]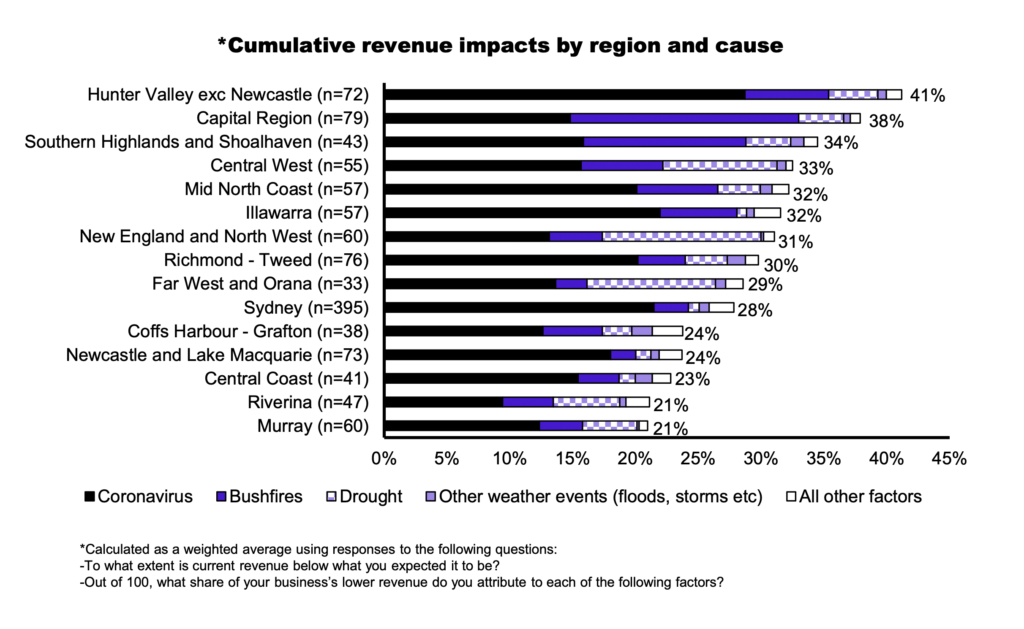 "If we do come on board with the scheme," Chris said, "that means we need to find $3,000 per employee per month to access the funds.
"There's a lot of small businesses that are in the position where (they) really don't have any ability to that.
"That could mean taking out a bank loan if you want to be good to your staff and keep them on, but if re-payments are simply deferred, this could lead to bigger challenges for businesses down the road."
Central Coast businesses are scrambling to make rapid changes to survive the economic impact of COVID-19, according to the latest quarterly Business Conditions Survey, released by the state's peak business organisation, Business NSW.
Regional Director, Paula Martin, said business conditions on the Coast continue to deteriorate rapidly, with a doubling of COVID-19-related revenue losses reported over a two-week period beginning March 23.
"The special COVID-19 edition of the survey, which attracted almost 2,000 respondents from every part of the state including 55 from the Central Coast, clearly shows the nature and extent of the impact that multiple economic shocks have had on the NSW economy over the first quarter of 2020."
The report shows that across the Central Coast in the first quarter of 2020, business confidence decreased by over 14%, with 40% of responding businesses declaring a drop in total sales revenues.
"We have seen a dramatic change from local business investing to grow their business last quarter to a complete refocus on reducing business costs.
"Maintaining business solvency has jumped three-fold and sharp rises in the cost of goods have now become the top costs for local businesses."
The JobKeeper scheme was specifically created to provide relief to companies who, due to these depressions in confidence and revenue, can no longer support their employee base, and yet it may be that those who need it most won't be able to access the funds.
Source:
JobKeeper Payment webpage, ATO: https://www.ato.gov.au/general/JobKeeper-Payment/.
Media release, Apr 9
Business NSW Central Coast Regional Director, Paula Martin
Interview, April 16
Chis Perkins, Owner, Ettalong café, Helado
Reporter: Haakon Barry