Welcome to our COVID-19 News Update on Tuesday, April 7, 2020. More positive signs are emerging that the so-called Coronavirus spread curve is flattening as we enter the fourth week of social restrictions in NSW.
Across the State of NSW, the number of new infections fell to just 49 in the 24 hours to pm Monday, bringing total cases to 2,637, including 21 deaths.
Published at 2020, April 07
Show More
For the latest on the Central Coast, we spoke a short while ago with Chief Executive of Central Coast District Health, Dr Andrew Montague.
[Interview Andrew Montague]
Well, the risk of a spike in COVID19 cases associated with an influx of tourists over Easter has been a big discussion point for our readers in recent weeks.
We spoke earlier to Parliamentary Secretary for the Central Coast and Terrigal MP Adam Crouch about that and also the new $10,000 grant on offer for eligible small business in NSW.
[Interview Adam Crouch]
OK, David Abrahams has some updates from around the Coast. David
David
Thanks Ross. Firstly, Patrick Spedding who we spoke to on Friday, has since provided this chart which updates the intensity of cases in different postcodes around the central coast.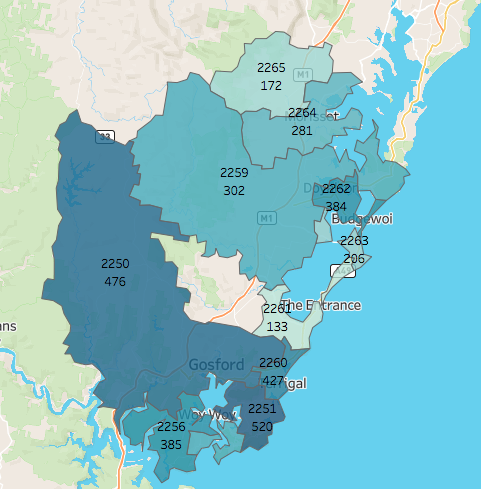 It seems the highest incidence per capital is in the 2251 postcode including Kincumber, Saratoga, Avoca and Copacabana.
Glass Onion Society Cafe
In Long Jetty, the owners of the Glass Onion Society Café have adapted to the shutdown by establishing a pop-up fresh fruit and vegetable shop.
It seems one of the locals at least is particularly happy about it.
Rugby League artist
Finally, Ross, we haven't had a lot of sport to report in recent weeks, but there is one exciting story and that's the story of Woy Woy Roosters Rugby league mum and talented Indigenous Artist, Kylie Cassidy.
Kylie had had one of her art pieces selected to be used in the design of the 2020 Sydney Roosters Indigenous Round Jersey.
Here's Kylie with the Sydney Rooster's Brett Morris with her art work on display at the announcement ceremony.
Kylie tells us the artwork highlights, among many other things, the journey taken by of the club over the years, including to win its 15 premierships and the strong indigenous heritage of the club, shown here as a circle with journey lines branching out representing the many community programs and events the Roosters are involved in.
And let's hope we don't have too long to wait for a resumption of the NRL and its very popular Indigenous round.
Sport
And finally, in the search for a hint of sport, we grabbed this quick clip of Ethan and Archie who made the most of their exercise time after, what I'm told was a long day of home-schooling.
Thanks for joining us and we'll see you Friday for 5@5.