Umina's Ironwoman, Jemma Smith, has taken out two gold medals at the 2020 NSW Surf Lifesaving Championships at Blacksmiths Beach, Swansea, this weekend (7-8 March).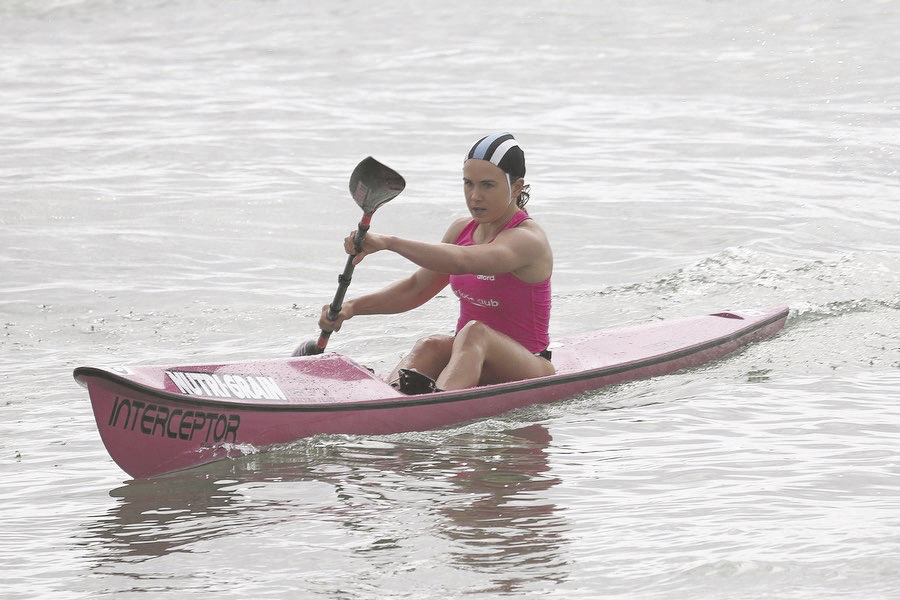 It was only fitting on International Women's Day, that Smith produced one of the best performances of the Championships to win the Women's Open Ski Race.
After getting off to a crisp start in light surf conditions, Smith powered away from her rivals in her signature pink ski to cruise to victory.
"It's certainly great conditions out there today, very challenging, but I managed to get a pretty clean start … and that set me up for the rest of the race," Smith said after the event.
"Some of these races have been really tight on the shore today, so I was just praying that I'd pick up a nice little wave to bring me to shore and I did, which was really nice," she said.
Smith also won the Open Champion Lifesaver, which involves both a written exam and live rescues.
In the iconic Ironwoman event, Smith then came a close third behind teenager, Emily Doyle, from Newport, and Naomi Scott from Manly.
Doyle is one of the youngest ironwomen to win the event.
"I kept my head together and just worked with Jemma and Naomi in the swim, and we all got the same wave.
"I just put my head down and I didn't care if I was going to pass out without breathing, I really wanted that win," Doyle said.
Over 6,000 competitors of all ages from across NSW competed at the Championships, along with 600 volunteer officials and 15,000 spectators.
Newport SLSC won the final Open Championships event, making it seven championship titles in a row and an unparalleled achievement.
Earlier in the tournament, the Avoca Beach U15 girls' board relay team also claimed a gold medal.
After a tight tussle with rivals Newport in the first two legs of the relay, rising star Mia Cracknell powered ahead in the final stages of the race to claim victory.
"We didn't really have any expectations coming into the final", Mia said after the race, "it was just so good being an under 14, it was the best thing ever."
Terrigal Surf Club's, Jayden Redfern, and Umina Surf Club's, Ebony Rayner, also took out gold in the U15 Champion Lifesaver Event.
Reporter: Ross Barry