[March 30, 2020. 5.30pm] Hi, thanks for joining us for or March 30 COVID19 bulletin. For those of you joining us for the first time, earlier bulletins from recent weeks are available on the coast community news website along with all the latest news stories on the crisis.
COVID 19 Coast Community update March 30, 2020
Published at 2020, March 30
Show More
Today, we have a further update on the virus from Local District Health, an update on the latest measures announced by Prime Minister Scott Morrison over the weekend, including both new social restrictions and new spending initiatives and finally a few notices from Council.
Local District Health Update
OK, well, there are some hopeful signs that the rate of spread of the Coronavirus, in NSW at least, may be moderating.
But first let's look at what's been happening here on the Central Coast.
Local District Health advised us earlier today that the number of confirmed Covid-19 cases here on the Central Coast has risen to 90, an increase of 20 cases in the last 48 hours – that's down from an increase of 32 in the prior 48 hours.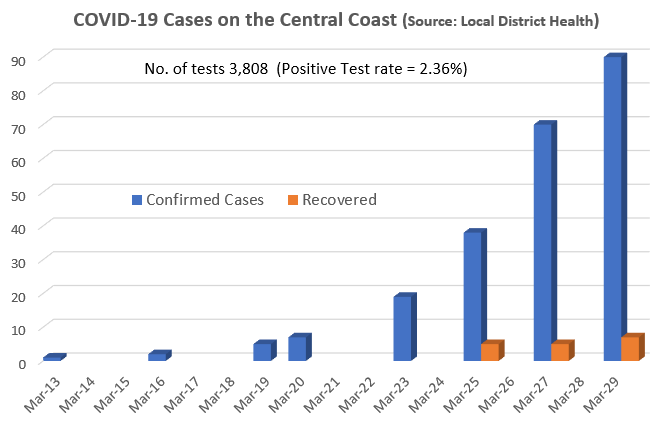 We've updated our chart for you, which shows the increase in cases since the first case was reported on March 13.
The total number of tests conducted on the Central Coast is 3,808, implying a positive test rate of 2.36% – that's the third highest positive test rate in the State behind South-Eastern Sydney and Northern Sydney.
This chart shows the number of confirmed cases in different regions across central NSW.
Now, interestingly, across NSW, the number of new cases in the last 24 hours was 127, bringing the total to 1,918.
Those 127 new cases are significantly less than the 174 reported for the 24 hours to Sunday morning, which in turn was less than the 210 in the 24 hours to Saturday morning.
Now authorities are reminding us that we need to remain vigilant in preventing the spread of the virus, but there is at least something in those numbers to be a little more cheerful about.
Latest Update from prime Minister Scott Morrison
Now, to the latest update from Prime Minister Scott Morrison.
Beginning Sunday night, the Government has tightened the restriction on gatherings of people to just two, down from the previous limit of 10.
The Prime Minister explained this did NOT include members of a single household who, he says, can go outside together in a larger group.
But if someone is not a member of your immediate household, the limit is two, a message we saw being echoed by Father Rod Bower this morning.
Now the Prime Minister had strong advice for the elderly as well as clarify his definition of essential travel – this is what he had to say, courtesy of ABC News.
The Prime Minister also announced another $1.1B will be spent on tele-health services, emergency relief for important not-for-profit community services, mental health services and domestic violence victim support services.
He also announced a moratorium on the evictions of tenants.
He went on to say that businesses, landlords and banks needed to discuss revised arrangements, where landlords provide relief to their tenants and then, in turn the banks provided loan relief to property owners, with the government ultimately providing support to banks through previously announced measures.
He added that rent relief would be at landlord's discretion but that anyone who did not make concessions would be excluded from other support mechanisms.
Finally, the government has also released a Coronavirus App that provided a range of information for people about the virus.
Now, in addition to these restrictions, the government today revealed a third set of measures to support small business and employment.
Here's David Abrahams…
New Business Support Measures
Thanks Ross, yes we understand from the Treasurer Josh Frydenburg's announcement this afternoon that businesses will receive a fortnightly wage subsidy up to $1,500 per employee as part of the government's bid to prevent 100s of thousands of further job losses.
It is understood the payments will be backdated potentially helping the thousands of employees who have already been stood down in recent times.
This is different to the 80% wage replacement plan being adopted by the UK, a move the Government here says would have taken too long and have been too complicated to set up.
And time is of the essence as we've already seen a very large number of businesses here on the Central Coast shutter their doors and let go their staff.
Brewers' challenges
Despite a perception that the beer business is booming, that sector too is also experiencing some pretty major challenges as pubs and clubs have shut down.
I spoke earlier today with local brewer Chris Benson, the owner of Six Strings craft brewery.
Council Waste Facilities
If you're planning on cleaning out the garage, you may be disappointed to hear that Council has closed public access to their waste facilities effective from this morning Monday March 30.
Kincumber Waste facility will be closed indefinitely, while Woy Woy and Buttonberry will remain open only to businesses and council contractors.
Council has reminded people that council pick ups and normal garbage pickups will operate as normal.
Presented by Ross Barry & David Abrahams. Camera and production Alex Herget
For rolling daily updates about all Central Coast related issues see our website coastcommunitynews.com.au