Central Coast Council quashed any chance of a breakwall at The Entrance Channel when it voted against the idea put up by three councillors who tried to get money into the budget to develop a breakwall design and a major dredging program.
After two hours of debate, amid loud angry interjections from a crowd in the public gallery, Council instead decided on a weaker version of the Motion.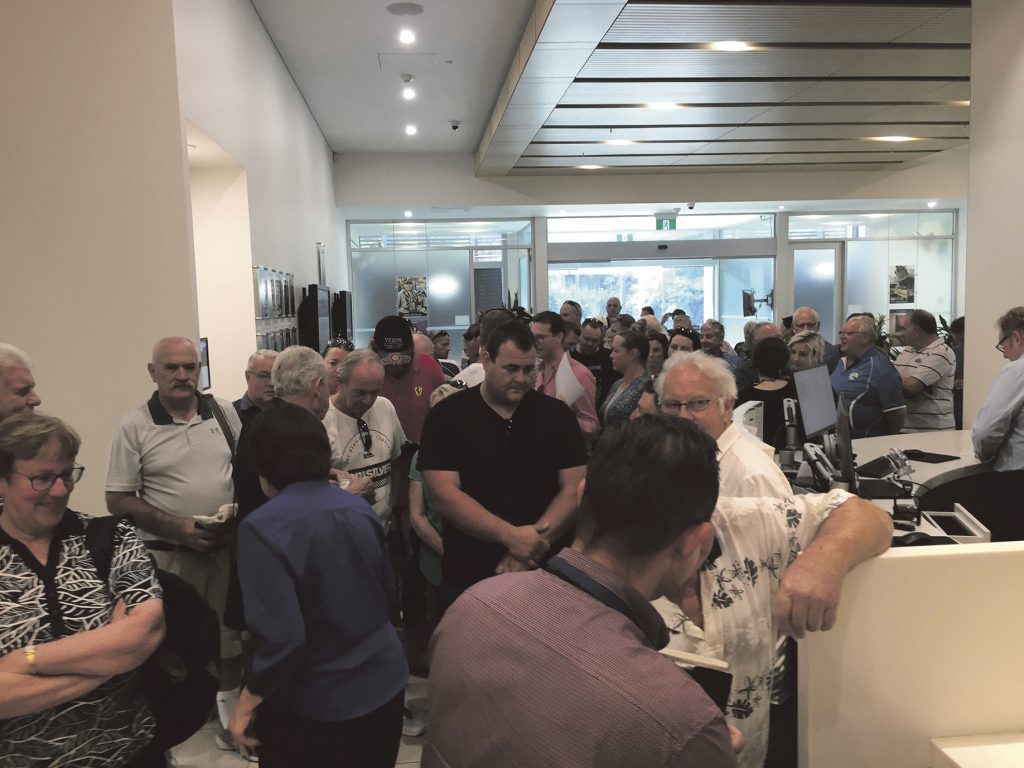 Mayor Lisa Matthews questioned why Councillors Bruce McLachlan, Jilly Pilon and Greg Best, who tried to get money into the budget for a breakwall design at The Entrance, did not mention the issue at an all-day budget session held in Wyong on February 8, only four days earlier.
Only Cr Troy Marquart did not attend and Cr Greg Best arrived in the afternoon for half the workshop.
"No one mentioned The Entrance channel – not one discussion," she said.
However, Cr McLachlan put up a motion at Council's February 12 meeting to allocate funds in the budget to start preliminary designs for a breakwall and to allocate funds to start a major channel dredging program as well as seeking State Government financial assistance longer term.
His motion was co-signed by Councillors Best and Pilon.
"Nobody mentioned this at the budget workshop," Mayor Matthews said.
Cr McLachlan said that was because it would only have been politicised between the wards when it was really a regional issue.
He said the motion debated at the council meeting was submitted to be included in the agenda two weeks before the flooding rains from February 7 to 11.
"I wrote that notice of motion on local knowledge, concerned that if we did get an event, the sand build-up would cause flooding," he said.
As it turned out, he was right.
However, Cr McLachlan's motion for a breakwall design and a major dredging program lost the vote.
About 50 residents from The Entrance were loud and angry as they sat in the public gallery at Gosford Chambers watching councillors debate the issue for about two hours, after two women spoke of the impact of the floods at the public forum before the meeting.
Cr McLachlan said he was disappointed that his motion was not adopted.
"Council now has a whole department on Futures and Innovation.
"It would not cost any more to have research into the latest global options," he said.
"Who knows what new low cost techniques are out there?
"Instead, we have councillors who remain stuck in the past, regurgitating the same old reports in an attempt to look like they are doing something, when they know the outcome of the outdated report."
Cr McLachlan said that not one cent was allocated to the emergency from the budget, no new options were to be considered and no call for action, only reports.
"If you wanted to buy a new car, would you look up 10-year-old reviews," he asked.
"That is exactly what the councillors have done.
"Meanwhile, people are trapped in floodwaters in raw sewage, and calling for the Mayor's resignation.
"Something has to change," he said.
The motion that eventually was passed changed the wording of Cr McLachlan's motion, watering it down to council "considering" allocating funds for the dredging and "considering preliminary designs" but not specifically mentioning a breakwall.
The successful motion was put forward by Cr Chris Holstein who said it was not worth allocating funds to a breakwall when that might not be the best solution.
His motion also called on a review of old reports about the lake's flooding.
It also added the word "unprecedented" to the description of the floods.
But Cr McLachlan said the floods were not unprecedented.
He told Wyong Chronicle that staff had briefed the councillors before the meeting and had said it was a 1-in-10 year flood.
"It was not the big one," he said.
Mayor Matthews said Cr McLachlan spoke misinformation at the council meeting when he said only she could instruct the CEO, Gary Murphy, to get equipment on to the beach for dredging.
But Cr McLachlan said that was the information he received from CEO Murphy when he texted him over the rain weekend asking for immediate dredging of the channel.
Mayor Matthews said the NSW Environment Protection Authority had to give permission.
She said other criteria also needed to be met, such as safe conditions for staff and the work needing to be done at low tide.
Dredging was started on Tuesday, two days after residents took their own action and started digging away at the sand buildup.
"We don't encourage people to take things into their own hands," Mayor Matthews said.
"It is risky, it is dangerous and it is life threatening.
"You need rules to protect people and to protect assets."
She said council had applied last year for a $600,000 grant from the State Government for dredging.
"We've been waiting since June and are confident that an announcement will be made soon," Mayor Matthews said.
That announcement came on Friday, February 14, from Central Coast Parliamentary Secretary, Adam Crouch, that the State Government would provide the $600,000 for dredging.
"Also, we are still waiting on the State Government's election promise to set up an expert panel which was going to find a solution," Mayor Matthews said.
"We're supportive of the panel.
"We need expert advice.
"What we do know is that the channel has changed with the groyne and we need to ensure that whatever the solution is, it works.
"The main difference between the two motions debated at the Wednesday, September 12, council meeting, is that we aren't certain a breakwall is the answer. "Also, there's the question of cost.
"We asked Councillors McLachlan, Best and Pilon, who put up the original motion, but they had no idea.
"We cannot give an open cheque book to these things," the Mayor said.
Source:
Meeting, Feb 12
Agenda item 7.8
Central Coast Council.
Interviews, Feb 13
Mayor Lisa Matthews and Cr Bruce McLachlan.
Media release, Feb 14
Adam Crouch, Central Coast Parliamentary Secretary
Reporter: Merilyn Vale