The cheapest fuel in the region is $1.27.7/litre at West Gosford. The dearest $1.59.9 at all outlets on the Woy Woy Peninsula. Confirming the long term trend of large variations in fuel prices across the Central Coast.
Today's fuel price variation of over 32 cents represents a whopping $15 – $20 difference per tank (depending on your tank size of between 45 and 55 litres).
Some areas are consistently showing higher prices, despite, local competition and improvements to the NSW Government's Fuel Watch program.
Coast Community News has been following the issue for several years. Something that spurred us to create a web app that publishes live fuel prices web page from across the Central Coast, using data collected via NSW Fair Trading.
Our live Fuel Price Check web app has been accessed over 100,000 times, helping locals keep an eye on locals prices.
In 2020 we intend to take a fresh look at this important regional issue, something that costs many locals dearly.
Politicians' past petitions
Both State and Federal local politicians have protested the issue of high fuel prices in the recent past. Though nothing significant appears to have changed for consumers on the Woy Woy Peninsula in the South and some locals in the north.
Federal MP for Robertson Lucy Wicks has previously written to the ACCC in 2018 about the issue after collecting feedback and signatures from locals in an online survey.
Past story: 'Spiralling fuel prices spur local MPs to action' , Coast Community News March 2018
State MP for Gosford Liesel Tesch in 2018 also started a petition and at one stage supported a local campaign to boycott expensive service stations on the Woy Woy Peninsula. She too called on the ACCC to act supported starting a State Government inquiry into the mater.
Both MPs have previously reported that the ACCC is not able to force retailers to deliver lower prices.
Coast Community News and Central Coast Newspapers will be more closely following the issue in 2020. Do you know more about this issue? Please call our office during office hours to discuss with us. Details on website.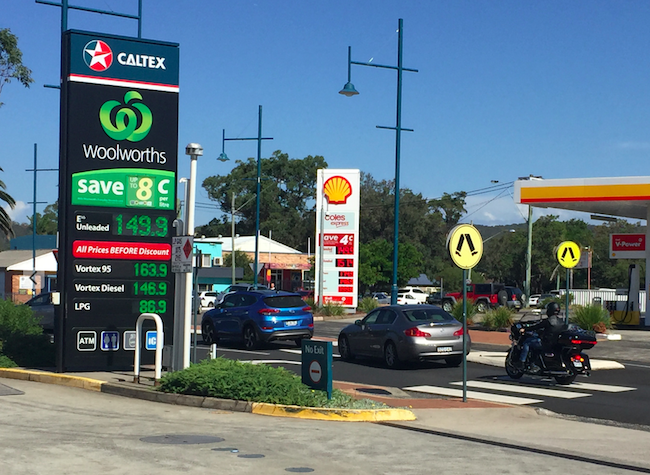 Source: In field investigations, past editions of CCN,  NSW government's Fair Trading OneGov platform, digital reporting; David Abrahams