The Central Coast Mariners rose to the challenge against historic rivals Sydney FC at Kogarah oval on Saturday night.
Popular pundits were tipping a wipe out for the struggling Central Coast team and instead witnessed a brave a assertive display of football.
Sydney slipped in a early goal and the hosts took the lead as Rhyan Grant crosses for Barbarouses to finish.
The game kicked into top gear after that goal, as both sides played attacking football combined with desperate defence, including impressive work from both keepers.
At half time the score board reflected the momentary lapse of concentration by the Mariners and perhaps the home ground fortune of the hosts.
The second half presented several new opportunities for the Mariners and they had the hosts on the back foot time and time again.
At 53' Danny DeSilva stole the ball off a defender and charged towards goal, but was cynically dragged down by Brattan, who is yellow carded.
The Mariners continued to create real chances in front of goal but were denied goals by a tight and for a lucky Sydney team.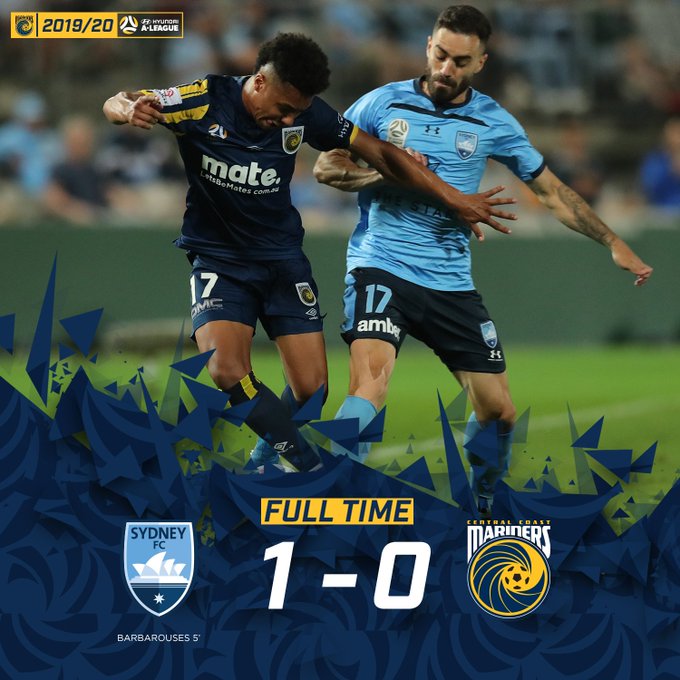 More chances for the Mariners occurred in extra time with a final corner. Mariners keeper Mark Birighitti was up for it but his header is saved by Redmayne.
So despite a strong effort and many chances, the early goal from the Sky Blues was enough to sink the Mariners at Kogarah. The final score 1,0 a gallant loss.
The entire Mariners playing team thanked the travelling fans after the game at the far end of the Kograh oval with high 5s and selfies. A fitting gesture that keeps the Community Club rolling forward despite the loss.
Source: CC Mariners social media, December 14, 2019