Central Coast Councillor Greg Best's push for tighter water restrictions in the region escalated this week, with an Extraordinary Council Meeting to be held on December 16 to consider his rescission motion on the issue, which was deferred at the December 9 meeting until mid February.
Cr Best has been advocating for months that the region should skip straight to Level 2 restrictions when Mangrove Creek Dam reaches the trigger point of 50% capacity, bypassing the more lenient Level One. With the level sitting at 53.3% on December 9, the trigger point could well be reached by mid to late summer.
His Water Security Emergency motion called on councillors to abandon their previous resolution to refer the matter to the Water Management Advisory Committee and opt instead to introduce the tighter restrictions, but it was deferred to the first meeting of 2020 when Mayor, Lisa Matthews, closed the December 9 meeting after midnight.
Cr Best says a decision on the matter cannot wait until February and lodged a request under the Code of Meeting Practice for an extraordinary meeting, with support from Councillors Jilly Pilon, Bruce McLachlan and Troy Marquart. Council has confirmed that a meeting has been called for 5pm on December 16 at Wyong Council Chambers.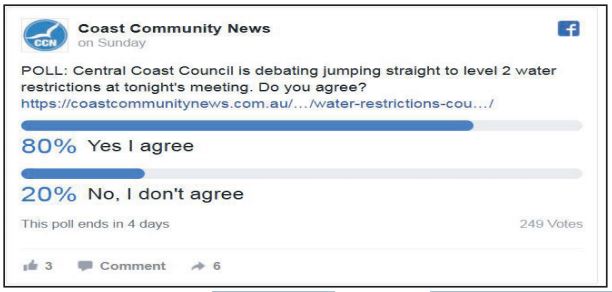 "I believe this Council is treating the drinking water issue with contempt, " Cr Best said. "We must take a more responsible response to conserving our precious dwindling water supplies.
"The first time I raised the matter in Council, it was referred to a Water Committee which had not even been formed at that point. "We have catastrophic fires looming from the west and more than 50,000 tourists set to descend on the region over the next few weeks.
"With a single stroke of the pen, going to Level 2 restrictions will save us more than 450 million litres of drinking water over the holiday period alone.
"There is a desperate need for action now. "I appeal to all concerned members of the community to attend the meeting on December 16 to make their feelings known.
"As a community we can do much. "I will not be silenced on this and if Council doesn't give it intelligent debate, I will call on the Minister to intervene. " Cr Best highlighted the fact that Sydney Water had recently moved to Level 2 restrictions ahead of its agreed trigger levels and the Hunter now had restrictions for the first time in 25 years.
He said council's recently declared Climate Emergency should include water and council needed to identify a likely zero day for water on the Coast. But Mayor, Lisa Matthews, has advised fellow councillors not to take a "knee-jerk response" at the expense of water-wise residents on the Coast. "We're all acutely aware of the absolute imperative to manage this precious resource wisely, " Cr Matthews said.
"If and when there's a need, we'll ask our residents to put their shoulder to the wheel again. "But we have a solid plan in place to manage the Coast's water supply, and I'm listening to the experts. "We are on to this. We have a plan in place to introduce water restrictions at the appropriate time – when the dam levels reach 50%. "We are not there yet.
"Our residents are resilient, resourceful and responsible water users. "They have been since the Millennium drought. "Thanks to their ongoing conservation efforts our dam levels are holding steady. "We are also in a stronger position than other areas, who have moved to water restrictions already, due to our significant investment in water infrastructure since the Millennium Drought which continues today
"We have also established a Water Management Advisory Committee, with the overwhelming support of councillors, which has been tasked with reviewing the current plan and will be meeting on Monday. "We are expecting an influx of tourists over the coming months, which is great for the economy of the Coast.
"I am confident they too will use our water wisely and we will certainly be ramping up our education during this period. "Introducing level 2 water restrictions now is just muddying the waters and is the opposite of what we have been telling our community – who should be applauded for their efforts to reduce water. "
Leading a community charge in support of tightening the restrictions is prominent Coast businesswoman, Claire Braund. The co-founder of Women on Boards said she would prefer to see Level 2 restrictions introduced even before the 50% trigger level, but with that idea not even on the table for Council, she says bypassing Level 1 restrictions is the next best thing.
"We are heading for a catastrophic state of affairs and we must conserve our water at all cost, " she said.
"With an influx of visitors soon to hit the Coast, washing jet skis and so on, our water levels will drop fast. "What happens if more water is needed to help fight the bushfires? "Heavy rain is not predicted until well into 2020. "And what happens if we need to give some of our water to regional NSW? "Council needs to fulfil its duty of care and exercise wisdom and judgement on behalf of the people of the Central Coast.
"If we don't go straight to Level 2 restrictions, we are fiddling while Rome burns. "
However, Community Environment Network (CEN) Deputy Chair, John Asquith, does not see a need to bypass Level 1 restrictions. "As an engineer, I understand that a lot of considerations and calculations need to come into play, including the fact that businesses in the region need to be kept running, " he said.
"I think the more important issue is, at what stage do we move to start building a desalination plant?
"This would provide an infinite source of water. " A Council spokesman said that while the RFS was drawing on the Coast's water supply to fight bushfires in the hinterland, the amount used in firefighting will have "almost no impact" on the Coast's water supply which currently stands at more than 107 billion litres stored in our dams". Monday's Extraordinary Meeting can only discuss the Rescission Motion.
There will be no public forum and no confirmation of minutes from the December 9 meeting. The meeting will be open to the public and webcast.
Sources: Agenda item 9.2 Central Coast Council meeting, Dec 9 Interview, Dec 11 Councillor Greg Best Media statement, Dec 11 Central Coast Council Interview, Dec 11Claire Braund Interview, Dec 12 John Asquith, Deputy Chair, CEN Media release, Dec 12 Central Coast Mayor, Lisa Matthews Reporters: Terry Collins and Merilyn Vale