Two Wyong High School students have been presented with The Order of Australia Association (NSW) Youth Community Service Awards.
Wyong High School 2019 Captains, Josef Graf-Cooper and Mikayla Gualtieri were two of just 25 students across the state to receive the award, which was presented by NSW Governor, Margaret Beazley, during a presentation at Government House on September 20.
The awards are presented to student leaders who demonstrate outstanding service to their communities or to Australia in general.
Graf-Coopers citation reads: Josef is School Captain of Wyong High and a senior Aboriginal leader and mentor. He has participated in many programs over the years such as the Central Coast Family WellBeing and Indigenous Sport Talent programs, the Batyr youth empowerment leadership program and the Ngara Leadership Camp and Youth Frontiers project.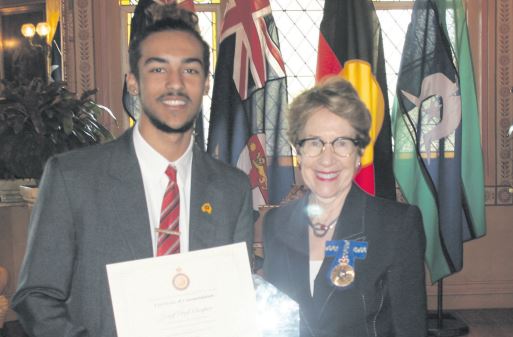 His Youth Frontiers project engaged students at Wyong High Schools primary school partner, enabling them to become involved in activities to build knowledge and understanding of Aboriginal culture. Subsequently, Josef and the Aboriginal cultural group have hosted many local primary schools and facilitated cultural programs at Wyong High School, where they utilise a protected Aboriginal site on the school grounds.
Josef recently went to Hawaii on a cultural exchange and ran a half marathon. He has danced at many local and state wide events, including the opening of the annual five lands walk on the Central Coast. He is a recipient of the state-wide Nanga Mai Award, Aboriginal Student of the Year for the Wyong district, and is a finalist in this years Allied Health School Base Traineeship of the Year Award.
As part of the Freeman Dance Group, he travels the state and performs at significant community events. He was recently invited to attend NSW Parliament House to be part of a youth leadership program. He is a leading mentor of young students in both academic and sporting programs in Wyong.
Gualtieris citation reads: Mikayla is a School Captain at Wyong High and an inspiring leader. Last year, she embarked on a personal learning journey, participating in the Max Potential leadership development program. This five-month program connects emerging young leaders with local community and business for one-on-one coaching, experiential workshops and a focus on delivering innovative local projects for community benefit.
Mikayla then developed and delivered an aged care program at a local facility and inspired other students to join the program, creating a legacy connecting aged care community health to the school community. She received a traineeship scholarship for assistance in Health Services and received a number of awards including the Wyong Race Club Community Spirit Award and the Newcastle Permanent Academic Award. She has also been recognised in her workplace, receiving a Crew Training Award for leadership.
Mikayla has participated in the 2019 leaders assemblies at Parliament House and Government House and received a commendation for her business report Watch with Care program. She has since led the development of the Wyong High wellbeing program introduced in 2019.
The Order of Australia Association (NSW) Chairman, Peter Falk, congratulated GrafCooper and Gualtieri and added that the Award was the highest recognition available to NSW high school students. "Josef and Mikayla are two of 25 high school students recognised today who have generously volunteered their time to a wide range of community organisations while preparing for their Higher School Certificate examination", said Falk.
"I have the highest admiration for their ability to manage their studies while contributing to a range of special community causes. It demonstrates they are exceptional community role models and very worthy recipients of this award.
"They did not seek recognition for their actions, but today we honour them for their selfless work. We are fortunate to have such impressive role models active within our communities", he said.
Source: Media release, Sep 26 Greg Campbell, PRISM Strategic Communications