The Central Coast Rugby Union Competition has officially ended for another year with Gosford district based clubs taking four out of five premierships for 2019.
The Premier 1 grand final was one of the most lopsided games in the competitions history, with Terrigal slaughtering Gosford 76 points to 21, to be crowned this years premiers. Played in fine and very warm conditions, both teams commenced the match with a display of very tight rugby in the opening few minutes. Terrigal opened the scoring with a penalty goal in the second minute, but it was Gosford who crossed for the first try in the 9th minute.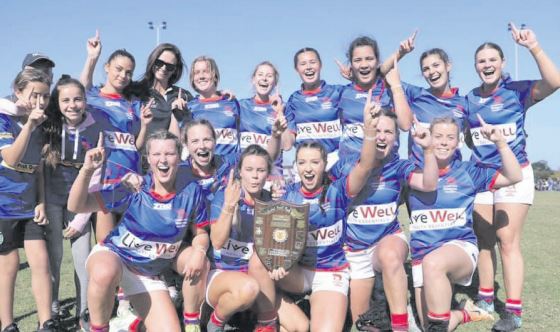 A fine run by Centre, Lenny van der Velde, saw him cross for the opening converted try. However, this 7 points to 3 lead was not to last very long. Terrigal quickly responded with their own try soon after and they in turn had regained the lead by 10 points to 7.
The next few minutes were quite even. Both teams had certain periods of attack, but it was at the midway point of the first half that things began to open up. Terrigal crossed for two quick tries at this time and suddenly had gained a very handy lead of 22 points to 7. Things were looking ominous for Gosford. From here on in Gosford had no real answer to the Terrigal onslaught.
Terrigal were playing very structured rugby and both their forwards and their backs were combining well to be on the go forward and in control of the action in the match. Terrigal scored further tries in the first half and went to the halftime break leading by 34 points to 7. Even at this stage it appeared Terrigal were comfortably in control of the premiership. They were proving most effective and they held territorial and possession advantage. Terrigal continued to control things in the second stanza.
They posted a further 42 points in that final 40 minutes to eliminate any chance of a Gosford comeback. Gosford tried hard but things just did not go their way. Terrigal proved quite clearly that they were the best team on the Central Coast this year and fully deserved being both minor and major premiers for 2019. Gosford did exceptionally well to get to the grand final having come from last position on the competition ladder last year.
However, they were to prove no match for Terrigal who secured their third Premier 1 premiership in the past four years, said Central Coast Rugby Union Publicity Officer, Larry Thomson. In the Under 19s, Avoca Beach defeated Kariong 29 points to 22, to claim their premiership. It was an intense, spirited contest in the first half, but neither team were able to gain control as the first half progressed.
It was high scoring and at the midway stage of the first half, the scores were locked at 12 all. Avoca Beach went to the lead just prior to halftime when they crossed for a converted try and this 19 points to 12 lead was a very handy lead for them at this stage. In fact, this 7 point difference remained the situation until the fulltime whistle. It was the fourth successive premiership in this grade for Avoca Beach, who were able to cap off some excellent late season form with this win.
Avoca Beach also wrapped up this years Presidents Cup with another exciting win, this time 18 points to 17 over Ourimbah. There was nothing between these teams for the entire 70 minutes. Ourimbah went to the halftime break leading by the slender margin of 8 points to 6. The second half proved just as tight, with scores locked at 11 points each midway through the second stanza. A penalty goal and a field goal saw Ourimbah go to the lead late in the match with time running out, but it was Avoca Beach who took the lead and the win right on fulltime with a conversion by Fullback, Johnathan Hirst.
In the Womens 7s, Terrigal also secured another premiership when they took down Avoca Beach 19 points to 10. Terrigal went to the halftime break leading by 12 points to 5, and the premiership was still very much up for grabs at that stage. Both teams scored a further try in the second half, but Terrigal held on for the victory. Terrigal deserved the premiership as they have been the standout team all year. In the Premier 2 grand final, The Lakes emerged victorious over Ourimbah with a 37 to 15 point win.
Source: Media release, Sep 16 Larry Thomson, Central Coast Rugby Union