The Gosford East Ward encompasses the suburbs and localities of Avoca Beach, Bensville, Bouddi, Box Head, Copacabana, Daleys Point, Davistown, Empire Bay, Erina, Erina Heights, Green Point, Hardys Bay, Holgate, Killcare, Killcare Heights, Kincumber, Kincumber South, MacMasters Beach, Matcham, North Avoca, Picketts Valley, Pretty Beach, Saratoga, St Huberts Island, Terrigal, Wagstaffe and Yattalunga, and parts of the localities of Lisarow, Springfield and Wamberal.
This ward has a population of 65,779, with a population density of 6.30 persons per hectare and a land area of 10,445 hectares (104km2) according to the 2016 Census data.
There are nineteen candidates registered, broken up into six groups with one ungrouped Independent.
Polling places for Gosford East Ward include: 1st Terrigal Scout Hall, Avoca Beach Public School, Brentwood Village, Chertsey Public School, Copacabana Public School, Davistown Progress Hall, Empire Bay Public School, Erina Community Trust Hall, Erina Heights Public School, Erina High School Assembly Hall, Ettalong Public School, Gosford East Public School, Gosford Green Point Community Centre, Holgate Public School, Kincumber Public School, Kincumber Youth Centre, Saratoga Community Hall, Sydney Town Hall, Terrigal Fifty Plus Leisure and Learning Centre, Terrigal Public School, The Entrance Public School, Tuggerah Lakes Secondary College- The Entrance Campus, Wagstaffe Community Hall, Wamberal Memorial Hall, Wamberal Public School and Woy Woy South Public School.
Each group and individual candidate was asked to respond to the following questions:
Q. What do you consider to be the most important issue facing the Ward you would be elected to represent?
Q. What do you consider to be the most important issue facing the Central Coast Local Government Area
Q. How would you, if elected to Council, set about addressing that issue for (a) your Ward, (b) the region?
Their individual responses follow: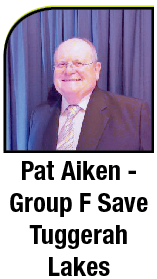 Running with: Gary Lindahl and Denis Whitnall
A. Our water and sewage services are regularly subject to breakages as they have reached end of life.
Roads are maintained in a piecemeal manner and many suburbs are flood liable with little flood mitigation.
Brisbane Water has been neglected over many years with loss of navigation, reduced amenity and a regular overflow of sewage.
The lack of gross pollutant traps ensures a range of pollutants enter our waterways with every storm and our waterfront reserves are not complimented by sufficient amenities.
A. We have world class beaches but little has been done to improve amenity.
We need to revitalise our beaches and waterways and can do this if we introduce a long-term dredging campaign.
Dredge the channels and put the sand on our beaches.
Our unique Coastal Open Space System is overrun with feral pests and weeds, provides little amenity in the form of walking and cycling trails and every year presents a major bush-fire hazard due to the level of hazard reduction carried out.
If properly managed these major natural assets have the potential to boost local business and local jobs.
Poor governance is demonstrated by a severe inability to engage our community and openly discuss the many challenges this region faces.
The new Code of Conduct introduced by the Administrator imposes an iron fisted approach to any whistleblower councillor.
Gosford Councils $1.4billion in missing assets and missing millions cannot just be swept under the table and ignored until the ICAC delivers it findings.
We cannot move forward financially, socially, environmentally or culturally without transparency of local government.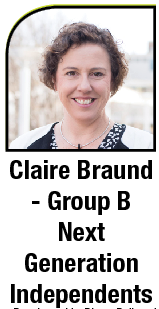 Running with: Diane Bull and Danielle Habib
A. Aside from the major centre of Gosford, East Ward is comprised of many 'villages' who all have different local issues.
Many of these are specific to their waterfront / public land areas such as development versus preservation of the natural environment, maintenance of public facilities and services, and accessibility and transport.
If you take this up a level, the big issue is around how the views, expertise and knowledge of residents and ratepayers to address the many small problems which over-time can become a giant headache, are heard, understood and acted on in Council.
A. The Central Coast is sandwiched between Newcastle and Sydney and lacks a clear identify both internally and externally.
We also compete for services and facilities between the north (Wyong) and south (Gosford) and lack strong advocates into the state and federal government systems.
This means we are often disadvantage by poor planning and policy decisions.
Good examples are the rail facility at flood prone Kangy Angy (rather than Warnervale) and the ATO and NSW Finance Office on the former waterfront public school site (rather than in Gosford CBD).
A. Local Government is about putting people first.
Here are some ideas that combine the resources of Council and the ingenuity of local people that don't cost the earth or take years to deliver.
Establish ward or precinct committees fed by local groups; Progress Associations, sports and member clubs and cultural and arts groups to inform on multiple issues.
Invest in ICT infrastructure, smart mobile Apps and web -based systems so councillors and council staff have access to the right technologies to manage interactions with thousands of residents and ratepayers.
Advocate strongly for the Central Coast as a region in its own right.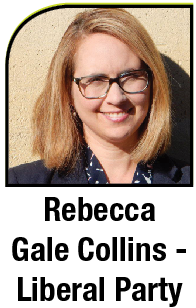 Running with Kerry Anne Delaney and Colin Marchant
The Liberal candidates understand the community needs, and will work with all levels of Government to fight for our fair share of funding on the Central Coast, including where it's needed the most across the Gosford East Ward.
Issues my team is passionate about tackling include the Terrigal traffic divert, redevelopment of Terrigal Haven, and Avoca foreshore redevelopment.
The Central Coast Council is the third largest Council in New South Wales with a residential population of 334,000.
We need to deliver for ratepayers with better roads, infrastructure and community engagement and above all to ensure every dollar of the Council budget is spent to benefit Central Coast locals.
Liberal Councillors will ensure Central Coast Council is delivering key infrastructure projects across our Central Coast region, and that local government is financially sound.
Our Liberal candidates will ensure the $204 million Capital Works budget is spent in our Central Coast region.
Only a strong Liberal Council will protect and grow our $9.6 billion in assets.
Liberal Party candidates will be out in the community engaging with as many Coasties as possible to hear what issues matters most to people across the Central Coast region.
With over 15 years of community engagement experience, I enjoy connecting with people of all ages and backgrounds.
My work experience includes a small business events management company, Federal Government, education, employment and disability sector.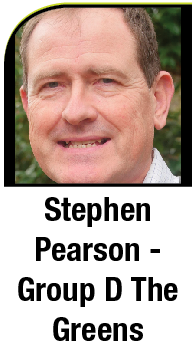 Running with: Robina Sinclair and Terry Jones
A. There are many issues for this large ward. All the issues have importance but a topic continually being raised is the protection of our environment and overdevelopment.
A. The most critical issue is governance.
There is deep cynicism about how this Council and previous Councils have operated.
Can we achieve a Council that works for the community in an accountable, transparent and truly consultative way?
Good governance will also lead to good outcomes and getting things done.
A. The Liberal's mega Council is a mega mess.
Part of the mess is the huge workload Councillors will face and the requirement to be across not just ward issues but more regional issues like the Warnervale airport debacle.
My qualifications as a Chartered Accountant and experience in senior roles in all sizes of enterprises will enable me to tackle that workload at a ward level and across the region.
We need to get Council back on track to address the critical infrastructure, planning, financial management and service underperformance issues.
The Council will demerge at some point in the future but, post September 9, we must have a Council that performs to the highest standards of ethical behaviour in all its dealings.
The Greens take a positive set of policies to the Council.
I believe that working with other Councillors of good will we can deliver so much more for the region.
We should be an innovation powerhouse with a great quality of life, local jobs, fantastic natural environment and sustainable development.
Running with Mitchell Lawler and Susan Chidgey
A. Gosford East ward covers a lot of coastal and nearby areas that are under pressure from population growth and development.
It is critical that we plan for population growth without destroying the things that residents and communities value.
Residents are feeling that their voices are not being heard.
Future planning should keep the mix of residential, rural and environmental areas.
We need better planning for transport and providing recreation and community facilities.
A. We need better governance and decision making that is open, transparent and accountable.
Too many decisions are being made behind closed doors. We have seen the wastage of ratepayer funds on projects that were not in the interests of residents and decision makers having forums with developers whilst getting rid of community Advisory Committees.
Over the next few years, Council will be preparing a new Comprehensive LEP (the key planning rules for the Central Coast) and this needs to have a high level of community involvement to make sure that we get it right.
We need a plan for the future that protects the things that we value and that make the Central Coast unique.
We need sustainable development that returns planning to the people – rather than Councils allowing developers to determine how our local neighbourhoods change.
Planning needs to ensure that infrastructure, including roads and drainage, are provided before development proceeds.
It needs to protect our drinking water catchment and agricultural lands, our scenic bushland, open space, lagoons and waterways.
A. I want to see Council support local community associations and resident groups including working with these groups to bring their communities together to identify priorities for now and a future vision for their area.
It is a priority for me to make sure that Council has better governance and is more open, transparent and accountable.
I would ensure that there is a high level of community involvement in developing the new planning rules for the Central Coast, restore Council Advisory Committees that include community representatives with skills, knowledge and expertise, invest in technology that models our transport infrastructure including traffic flows.
That way, when new development is proposed, we can truly assess the cumulative impact of increased traffic, parking and public transport needs
I would carry out a review of recreation facilities and usage, including sporting fields, to see how we meet growing demand.
Lobby for stronger protection of our drinking water catchment and agricultural lands and encourage the growth of this industry for a sustainable future.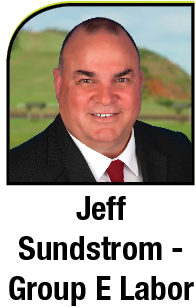 Jeff Sundstrom – Group E Labor
Running with Victoria Collins and Jim MacFadyen
A. In the Gosford East Ward we need to address the maintenance of our roads and pathways.
Some roads place pedestrians and cyclists in real danger.
The dangers include inappropriate speed limits, pot holes (of course) and maintenance of bush verges in locations including but not exclusively Avoca Drive in Kincumber.
A. Apart from the obvious Roads, Rates and Rubbish, the most important issue would be the abandonment of the community by the majority elected councillors.
Council has walked away from our wants and needs.
Council community committees should be part of any good Council I would support reinstating such committees and am appalled that they had been disbanded.
A. Fixing the dangers on the roads can be done by using best practices in road repairs, addressing drainage and looking at ways to reduce vehicular traffic.
Fixing community consultation is as easy as being available and responsive to the residents and local businesses.