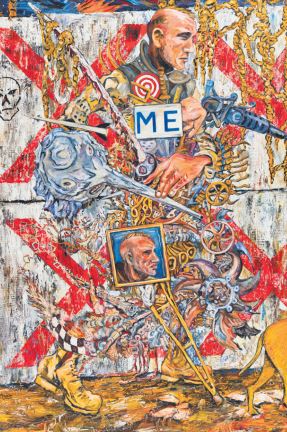 Gosford City residents are invited to bear witness to arguably the most powerful collection of contemporary humanitarian works, when Gosford Regional Gallery presents 'I Witness', Australia's first major display of work from leading Australian artist, filmmaker and Sydney Peace Prize recipient, Mr George Gittoes AM.
In his 40-year career, Mr Gittoes has worked in many war zones and regions of conflict and upheaval. Awarded the Sydney Peace Prize in 2015, Mr Gittoes has been credited with: exposing injustice as a humanist artist, activist and filmmaker; courage to witness and confront violence in the war zones of the world; enlisting the arts to subdue aggression; and, enlivening the creative spirit to promote tolerance, respect and peace with justice.
Running from April 9 to May 2, this exhibition is a chronological journey of Mr Gittoes' work and includes paintings, drawings, printmaking, artist diaries from the fields of war, as well as installation and film. Council's Director of Community Growth, Ms Judy Jaeger said the large, powerful images featured in the exhibition depict some of the most difficult places on earth and express the artist's social, political and humanitarian concerns about injustice and conflict.
"As well as highlighting issues of peacemaking and human politics, 'I Witness' also showcases the personal stories of the many people encountered by Mr Gittoes in his travels to areas such as Nicaragua, the Philippines, Rwanda, Cambodia, the Middle East, Pakistan, Iraq and Afghanistan.
"The artworks are stark, confronting and demanding, directly appealing to the viewer's sense of compassion and justice. "Sometimes shocking and provocative, this unique visual experience demonstrates the capacity of art to advocate and create change in an environment framed by war and terrorism," Ms. Jaeger said.
'I Witness' is a touring exhibition from Hazelhurst Regional Gallery and Art Centre.
Media release, Mar 31, 2016 Gosford City Council Media