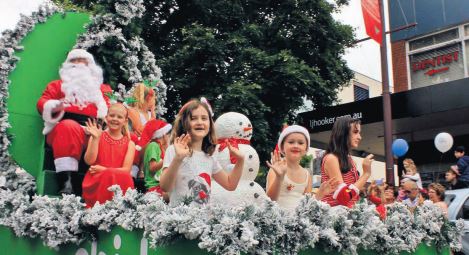 Around 50 entries marched or drove down Mann St during the Gosford City annual Christmas Parade on Saturday, November 29.
The parade enjoyed the cheers and happy clapping of thousands of excited families, with the highlight of the parade being the arrival of Santa.
The entries in the parade came from many community groups and local businesses keen to get into the Christmas spirit. They were all vying for the prizes on offer to those judged to be the best.
Taking out the major community prize, donated by ORS Group, was the precision marching group, the Celestial Band, who looked stunning in their blue and white uniforms.
Second prize, donated by the Biz Plus Networking group went to Central Coast Highland Dancing, and the second runner up was Our Lady of the Rosary school at Wyoming. The winner of the media package was Laycock Street Dance and their group of colourful dancers!
After the parade, Gosford mayor, Cr Lawrie McKinna presented Santa and his lovely wife with the keys to the city, then they headed into the Imperial Centre to pose for photographs with many lucky children.
The crowds stayed on for the free rides and activities in Kibble Park, including the Snow Dome, the train ride and the chair-o-plane. The park was a hive of activity, with people everywhere.
Project manager of GBID, who was responsible for organising the parade and the event in Kibble Park remarked, "The parade was one of our best! Everything went so smoothly, and the fl oats and marchers all looked amazing."
Media release, Dec 1,
2015
Kim Leecroft, Gosford
Business Improvement
District