Gosford deputy mayor, Cr Craig Doyle has refuted statements made by Wyong's Cr Lloyd Taylor about Gosford Council's record on road expenditure.
According to Cr Doyle, in the 2014-15 financial year, Gosford Council invested around $41 million improving our roads, not the $6 million put forward by Wyong's Cr Taylor.
Cr Doyle said the investment on road improvements in 2013-2014 was around $40 million. "On average, we invest between $18 million and $20 million each year to upgrade and renew our over 1,000 kilometre road network," Cr Doyle said.
That's in addition to an average of $20 million spent each year maintaining the network, Cr Doyle said. "Gosford Council has a road rating index that is in decline and an increasing infrastructure backlog of $59 million," Cr Taylor said in an earlier statement.
"This isn't good enough," he said. In response, Gosford's Cr Doyle said: "The condition of roads are rated to enable decision making regarding targeted expenditure of limited funding.
"The methods used for road condition assessments and acceptable service levels can vary between organisations and as such valid comparisons can only be made if both Gosford and Wyong have adopted the same processes.
"A 1,000 kilometre network will have a value of between $400 million and $600 million. "If it is optimistically assumed that such a network will have a life of 100 years, then between $40 million and $60 million in replacement works will be required consistently each year.
"While an injection of funding over one or two years might bring immediate benefits, the influence on the overall road network condition will be negligible unless funding is continued into the future.
Cr Taylor said he invited Gosford councillors to learn from Wyong about how to manage road infrastructure. "I call on Gosford Council's self-appointed road warrior, Gosford's deputy mayor, Cr Craig Doyle, to join me on inspecting some of Wyong's roads."
"Based on information in Special Schedule 7 of Gosford's Annual Reports, 2011/12 to 2013/14, Gosford needs to spend $59 million to bring its roads to a satisfactory condition which was an increase of $9 million from the previous year. "Wyong spent close to $10 million last year and has reduced its backlog to $33 million.
"Gosford needs to improve the roads for the residents of the Central Coast. "It worries me that the State Government is set to force the amalgamation of the two Councils, and the roads in Gosford are well below par.
"I note that Wattle Tree Rd, Holgate has been assessed by the NRMA as one of the very worst roads in NSW and Gosford has no plans to fix the road. "In contrast, Wyong Council this term has fixed many notorious black spots including Minnesota Rd and Warnervale Rd.
"I want to work cooperatively with our partners in Gosford, so I invite Cr Doyle to come to Wyong and embrace the Wyong way." However, Gosford deputy mayor, Cr Doyle refuted his northern colleague's statements about Holgate and other issues.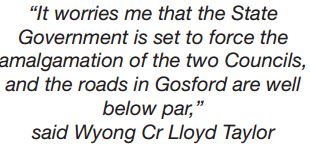 "Road safety concerns have been raised about Wattle Tree Rd in Holgate (especially in the vicinity of Holgate Public School) not road condition issues. "At this stage, work to improve access and provide parking adjacent to Holgate Public School is expected to start early next year.
"This work will include the installation of kerb and gutter, a new footpath and kerbside parking. "We have also identified another two potential projects to improve transport infrastructure in the vicinity of Holgate Public School.
"Funding applications for these two projects have now been submitted to the NSW Government's Black Spot program, and we expect to hear whether these applications have been successful early next year.
"The public should also note that Cr Taylor's figure for Wyong includes approximately $25 million for depreciation I believe, and you can't spend depreciation. "It is also interesting to note that Gosford Council completes approximately 20 per cent of Wyong's road works and repairs through the competitive tender process which is a compliment to the efficiency and performance of our road teams," Cr Doyle said.
"I have spent over 16 years on council, and also on the CCROC executive and committee, and I am yet to have a conversation with anyone in either Wyong or Gosford who think the roads are perfect, or for that matter good enough to crow about.
"The strategy that Cr Taylor is adopting is inaccurate and inflammatory and less than helpful when trying to conciliate a merger deal that benefits the region.
"Is he really saying that Wyong's roads are up to speed and good enough? "We want a better deal for all our roads in both council areas, and we want it now.
"We are well behind the funding provided to the other regions and Sydney councils in particular. "Maybe the strategy should be both councils need a hand up and real commitment on road funding from the state government," Cr Doyle said.
Media release,
Oct 23, 2015
Lloyd Taylor, Wyong
Council
Email, Oct 29, 2015
Craig Doyle, Gosford
Council