The Rhythm Hut will be celebrating Christmas with good music, drumming, dancing and good vibes
The party will be featuring OKA, The Kava Kings, Dominique, plus DJs Fabila and Youngy, drum circle, food and bar, art space, chill out lounge and lots of goodies including lucky door prizes. OKA draws upon their indigenous connection to place and country through music.
Their signature sound is an irresistible blend of influences spanning house, big beat, reggaedub, Roots, Jazz and world music forming a rhythm based sonic tapestry crossing cultural boundaries, embracing the future without losing sight of the past.
Almost solely known through word of mouth, the unconventional growth of these Aussie boys defies the norm. Independently selling over 150,000 albums, they have shared the stage alongside inspirational acts Arrested Development, Finnley Quay, Xavier Rudd, Dehli to Dublin, Kinnie Starr, Digging Roots to name a few.
OKA have thrived at festivals throughout Australia, Asia and North America including Montreal Jazz (CAN), Winnipeg Folk (CAN), Green Room Festival (JAP), Earthdance and Joshua Tree (CA), Fusion Festival (GERMANY) Bali Spirit (INDO), Woodford Folk Festival, Rainbow Serpent, Splendour in the Grass (AUS) and Sydney Opera House (AUS).
The OKA Collective includes captivating melody on guitar, sax, flute and woodwinds woven through organic juju beats of deep tribal fire; a sound and force that touches the heart and feeds the soul. Hailing from the South of Sydney, The Kava Kings bring a fresh new sound with their loose mash up of Gypsy, Rock, Reggae and Dub.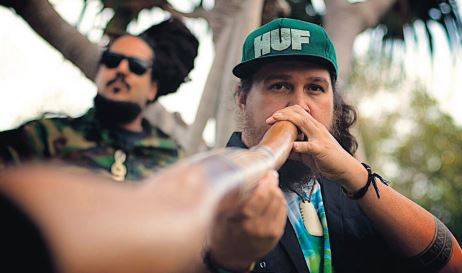 Within two years, The Kava Kings have been headlining shows all over the country and their highly energetic performances have helped them earn a solid reputation.
Amongst these shows they have played with many great International and Australian acts such as Mat McHugh and the Beautiful Girls, The Skatalites, Ash Grunwald, Bobby Alu and many more.
Over the last two years, the lads have played five tours of the country and released their debut EP 'Edge of the Earth' which received Triple J airtime.
Dominique Morgan is a dynamic solo artist based on the Central Coast. Dominique creates a concoction of vibes using elements of Jazz, Blues, Funk, Soul and pop providing a groovy dancing atmosphere for all who cannot resist tapping along to some creative sounds.
Playing at many venues across NSW, Dominique has pleased and amazed many crowds of all ages performing at venues such as The Byron Bay Beach Hotel supporting US artist Dustin Thomas, Lizottes, as well as local festivals such as Mountain Sounds 2014 and the annual 5 LandsWalk.
A former student from Country Singer Gina Jefferies' workshops, Dominique received the Gina Jefferies scholarship award in 2010 and is currently recording her fi rst EP with Rod McCormack, due to be released December 2015.
The Christmas party will be held on Saturday, December 5 at The Rhythm Hut.
Media release,
Nov 13, 2015
Lou Sawilejskij,
The Rhythm Hut